Search N5 Net Software Repository:
Search Files
Sponsor:
Browse:
Areas Of Interest
Authors Area
Are you a software author? Take a look at our Author Resource Center where you will find marketing tools, software specifically created for promoting your software and a ton of other helpful resources.
Audio & Multimedia :: Audio File Players
Music Player which is always on place. To play the audio files just drag and drop them from the finder into the TrayPlayer's Icon. The following audio formats are supported: mp3, m4a, acc, bwf, wav, au, aiff, m4r, caf and sd2. (Quick operation for Play/Pause: TrayIconMouseClick+ControlKey): What's New in this Version: 1. New audio engine for better output audio quality, 2. New App-Icon, 3. Some more GUI look and feel improvements, 4. The app size is reduced now, it gives you 10 MB more space on your Mac for other apps, music and etc, 5. Added the app introduction slides.
Similar Products:
Audio & Multimedia :: Audio File Players


Zulu DJ software is a DJ program for Mac. It lets you mix music and other audio recordings live. When loading a music track onto a deck Zulu will automatically scan the file for a beat and assign a beat per minute (BPM), and will change the tempo in the second deck for perfect synchronization. Drag and drop music into and around Zulu's interface and preview an upcoming track through headphones via a secondary audio output.
MAC | Shareware
Read More
Audio & Multimedia :: Audio File Players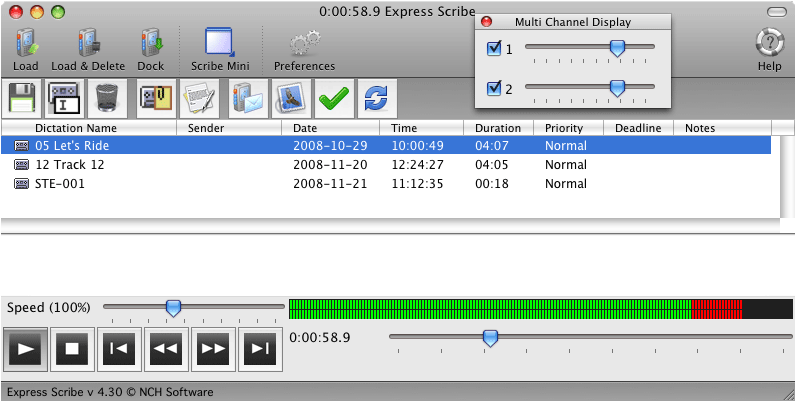 Express Scribe is audio transcription player for typists using Mac OS X. This transcription player features variable speed playback, foot pedal control, speech to text engine integration and can automatically load audio files from email, FTP or network. Audio format support includes dss, dct, wav, mp3, aif and many more. You can also dock traditional hand held recorders and transfer the audio as well and importing audio from CD.
MAC | Shareware
Read More
Audio & Multimedia :: Audio File Players

Melody player is a little program for displaying and playing music files created with Harmony or Melody Assistant, as well as Midi, ABC, MOD, S3M, MusicXML (XML / MXL) files. Melody player includes its own softsynth and digital sound database, so it doesn't need any Midi card or interface. Melody player is freeware.
Windows MAC | Freeware
Read More
Audio & Multimedia :: Audio File Players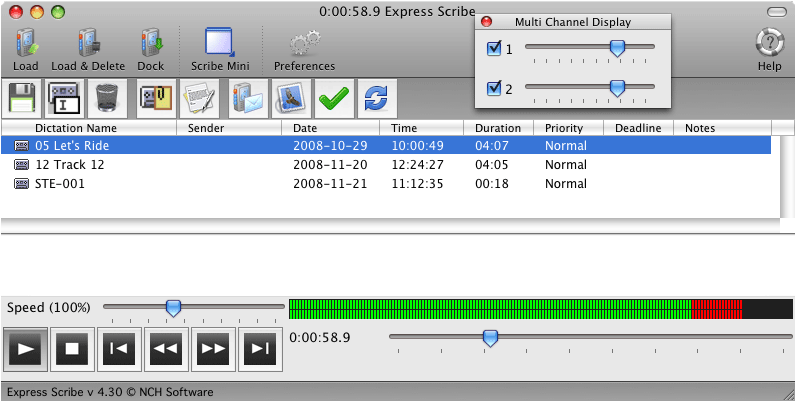 Express Scribe Transcription software for Mac Free offers valuable features for typists including variable speed playback, multi-channel control, playing video, file management, and more. Express Scribe Free supports common audio formats including WAV, MP3, WMA, and DCT. Increase your words per minute by giving your feet control of playback, leaving your fingers free to type.
MAC | Freeware
Read More