Search N5 Net Software Repository:
Search Files
Sponsor:
Browse:
Areas Of Interest
Authors Area
Are you a software author? Take a look at our Author Resource Center where you will find marketing tools, software specifically created for promoting your software and a ton of other helpful resources.
Audio & Multimedia :: Multimedia Creation Tools
WavePad is music editing program for Mac OS X. WavePad allows you to create and edit voice, music and other sound recordings. You can duplicate sections of recordings and add echo, amplification, noise reduction and other effects. The following is a list of features for the WavePad Mac Music Editor. We recommend you download and install the software to give these features a try. The download is free. * Recorder supports autotrim and voice activated recording * Music editing functions include cut, copy, paste, delete, insert, silence, autotrim and more * Music restoration features including noise reduction and click pop removal * Special effects include reduce vocals, distortion, chorus and more * Batch processing allows you to apply effects and/or convert songs as a single function * Set bookmarks along multiple files as you work * Supports sample rates from 6000 to 96000Hz, stereo or mono, 8, 16, 24 or 32 bits * Pre-defined sound quality suggestions when saving files such as CD Quality and Radio Quality * Ability to work with multiple files at the same time in seperate screens * Load music files directly from CD A version of this software is available for free from NCH Software's website. This version is for non-commercial use. About NCH Software: NCH Software is a leader in video, dictation, audio, business and computer utility software for Windows and Mac OS. NCH Software has over 80 products and has been developing them since 1993. NCH has received several awards for excellent software.
Similar Products:
Audio & Multimedia :: Audio File Recorders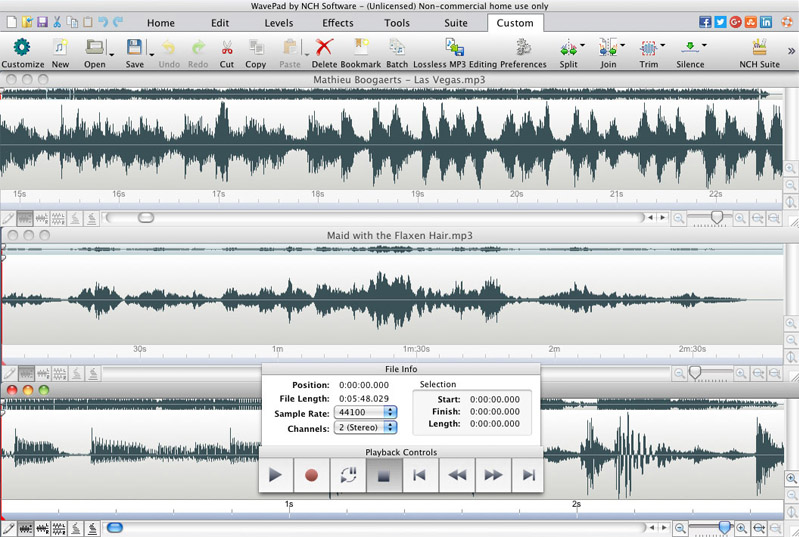 WavePad Masters Edition for Mac OS X is a powerful studio editing software anyone can use. This product is a full-featured professional music and audio editor designed for Mac OS X. You can record and edit voice, music, and other audio types. WavePad Masters Edition allows users to copy, cut, and paste audio parts, then add effects like amplification, echo, or noise reduction to create a unique sound.
MAC | Shareware
Read More
Audio & Multimedia :: Multimedia Creation Tools

WavePad is audio editing software for Mac OS X. This program lets you make and edit voice, music and other audio recordings. You can cut, copy and paste parts of recording and, if required, add effects like echo, amplification and noise reduction. Typical applications include trimming down long sound clips, reduce vocals from music, create ringtones, record voiceovers, and more.
MAC | Freeware
Read More
Audio & Multimedia :: Multimedia Creation Tools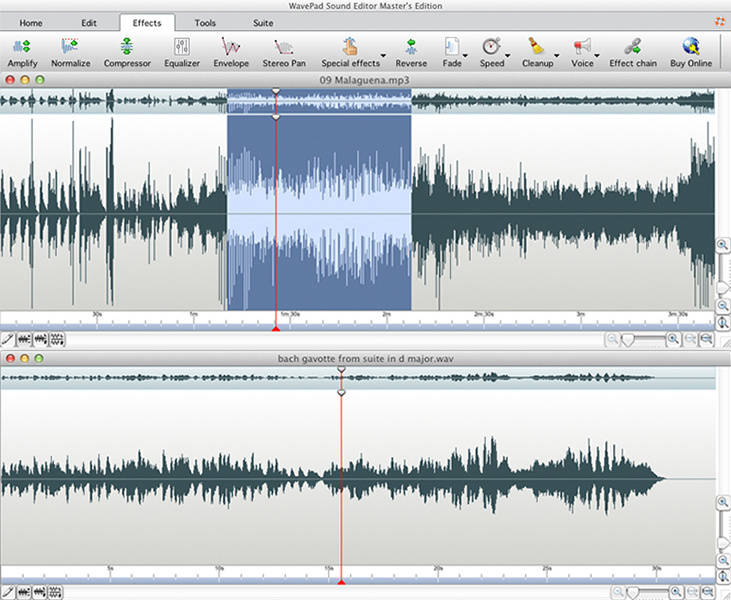 WavePad Masters Edition for Mac OS X is a powerful studio editing software anyone can use. This product is a full-featured professional music and audio editor designed for Mac OS X. You can record and edit voice, music, and other audio types. WavePad Masters Edition allows users to copy, cut, and paste audio parts, then add effects like amplification, echo, or noise reduction to create a unique sound.
MAC | Shareware
Read More
HOSTED BY N5 Networks