Search N5 Net Software Repository:
Search Files
Sponsor:
Browse:
Areas Of Interest
Authors Area
Are you a software author? Take a look at our Author Resource Center where you will find marketing tools, software specifically created for promoting your software and a ton of other helpful resources.
A-PDF Merger for Mac is an easy-to-use PDF merging tool for Mac OS. This affordable program provides an easy and fast solution for file archiving. With this utility, you can merge multiple images or Acrobat PDF documents into a compact PDF file. The optional file import methods and flexible merge methods of this software will save you troubles and improve your work efficiency. Multiple-to-One for Archiving & email A-PDF Merger for Mac can be a great helper for document archiving. By combining multiple PDF files into a single one, you will have fewer files to store, which will reduce the possibility of file missing. Besides, this file merging tool will allow you to send fewer email attachments because the merged PDF already contains all the information. Images to PDF File In addition to allowing you to merge PDF files to one succinct PDF, A-PDF Merger for Mac also enables you to convert images of different formats into a single PDF document. The supported image formats include: TIFF (.tif), Multi-page TIFF, Windows bitmap (.bmp), GIF (.gif), JPEG (.jpg), Portable Network Graphics(.png), JPEG2000(.JP2, .J2K), Photo Shop Document(.psd), PCX, DCX, DIB, RLE, TGA, PBM, PGM, PPM, ICO, PCD, WMF, EMF, CUR. Easy Merging in 3 Steps Once you launch this PDF merger on your Mac computer, you can complete the mergence in 3 steps: 1. Click the "Add" button to import PDF files or images; 2. Organize file order and select merge method; 3. Click the "Merge" button to start the mergence. Flexible Merge Methods For different uses or purposes, A-PDF Merger for Mac provides you with 5 merge methods including: Whole, Part, Mix alternate pages, Mix alternate pages Reversed and Repeat. Find more actual examples of using the merge methods. Multi-Language Support A-PDF Merger for Mac supports multiple languages. You can choose and customize the interface language of this program so you can proceed the merging with native or familiar language.
Similar Products:
Graphic Apps :: Editors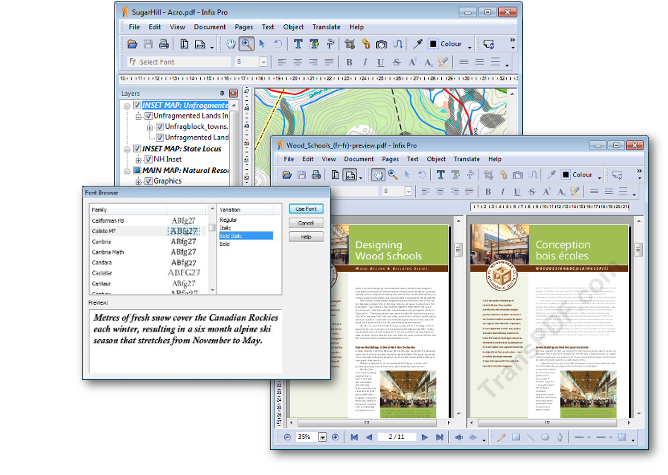 Easy to use PDF Editor. Edit PDFs like a word processor. Easily edit the text in your PDFs, reflow and re-justify text, change fonts, colours and sizes. Resize, reposition and change images as you would in a professional publishing application. Infix is the quality PDF Editor giving unparalleled ease of use combined with high quality text formatting. See Iceni product Gemini for PDF data extraction & conversion.
Windows MAC | Demo
Read More
System Utilities :: Automation Tools

PDF Index Generator is a powerful indexing utility for generating an index from your book and writing it to your book in (4) easy steps. PDF Index Generator parses your book, collects the index words and their location in the book, then writes the generated index to a PDF or a text file you specify. The main target for PDF Index Generator is to automate the process of generating the book index instead of doing the hard work manually.
Windows MAC Linux | Shareware
Read More
Business :: Office Suites & Tools

HTML to PDF Converter for Mac can be used to batch convert HTML files to PDF files on Mac system. HTML to PDF Converter for Mac is a smart and powerful tool specially designed for Mac OS X system. It can be used to convert .html, .htm, URL, etc. file to PDF document just by some easy clicks. In the conversion procedure, you are able to set PDF paper size, orientation, font size, edit PDF contents such as no image, no background, etc. HTML to PDF
Windows MAC | Shareware
Read More
Business :: Office Suites & Tools

VeryPDF Image to PDF Converter for Mac converts image to PDF, JPG to PDF in Mac OS X. VeryPDF Image to PDF Converter for Mac helps Mac users convert many kinds of images to PDF files singly or in batches, which can not only save your time, but also save your money. Furthermore, VeryPDF Image to PDF Converter for Mac supports editing properties of PDF files flexibly and professionally.
Windows MAC | Shareware
Read More