Search N5 Net Software Repository:
Search Files
Sponsor:
Browse:
Areas Of Interest
Authors Area
Are you a software author? Take a look at our Author Resource Center where you will find marketing tools, software specifically created for promoting your software and a ton of other helpful resources.
AgentDialer is a state of the art predictive dialer that your business can rely on. It requires no additional telecom hardware, calls are made through a SIP based VOIP service or Skype. Because this is a software only solution, AgentDialer is easy to use, flexible, and affordable. Unlike traditional predictive dialers, Agent Dialer enables agents to work remotely, such as at home or even in a different country. The only requirement is a broadband internet connection for your agent. AgentDialer is a predictive dialer and a semi automatic dialer system combined. In predictive dialing mode, the system automatically dials the next phone number. If it is answered by an answering machine, it leaves a pre-recorded message or simply hangs up. If it is answered by a live person, it connects the call to an agent automatically. In semi automatic dialing mode, the system can automatically dial a phone number by the press of a key. Once connected, you can talk on the line, play pre-recorded audio files, record the whole conversation, or transfer the call to another agent. The key features of this program's Predictive Dialing mode include: -No telephony hardware or phone line required. -Calls can be made through Skype. -Agents can work remotely, such as at home. -Screen pop-up will automatically contain all information about the customer on the current call. -Skip answering machines or leave messages automatically. -Record phone conversations. -Save notes about the phone call. -Easy agent call report. -Supports multiple phone lines and multiple agents Semi-automatic Dialing Key features include: -Dial a phone number, transfer the call to another number, play a pre recorded message or record the conversation, all by the press of a single key. General features include: -Easy to use spreadsheet interface, a do not call scrubber along with easy importing and exporting of a call list.
Similar Products:
Communications :: Other Comms Tools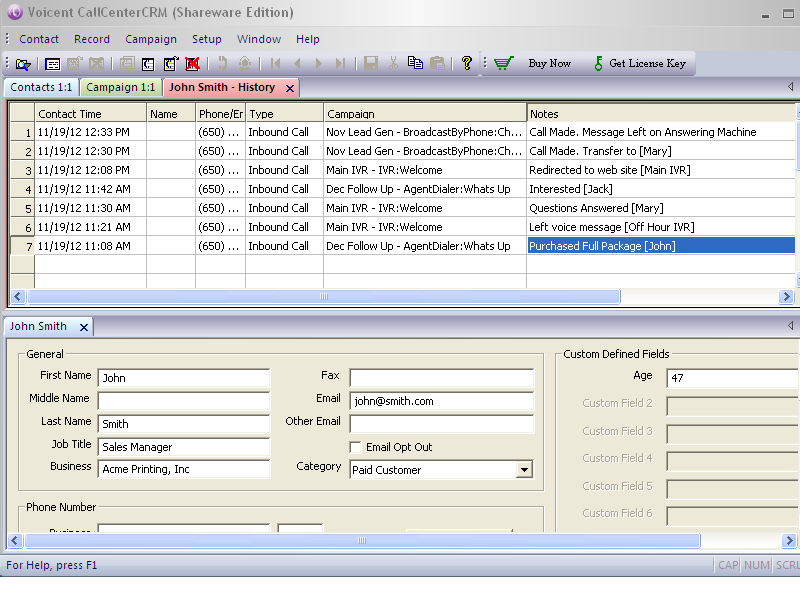 Voicent's Call Center CRM is a powerful software tool for managing customer interactions in call centers or sales organizations. Use it to automatically track all customer interactions, save and manage customer opt-outs and contact preferences, automatically display saved customer information to agents, intelligently and efficiently recognize callers and serve them accordingly, and design and manage sales and marketing campaigns.
Windows | Freeware
Read More
Communications :: Other Comms Tools

CRM Dashboard is unified agent desktop software that puts the customer at the center of all interactions - phone, text message, email, and social media. By providing customer information accurately and easily integrating with your business processes, Dashboard enables agents to deliver superior customer experiences for your organization. Features an user-friendly interface that allows integration and customization with 3rd party CRM services.
Windows | Freeware
Read More
Web Development :: XML/CSS Tools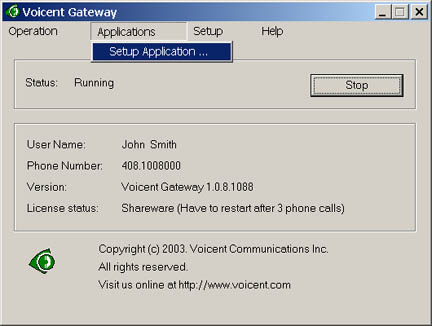 VoiceXML Gateway for SIP VOIP PSTN TAPI development API for interactive telephony application. High level development platform based on W3C VoiceXML. Supports text to speech, voice recognition, DTMF tones for both inbound, outbound apps. Works with SIP based VOIP, Skype, and traditional phone services. API , SDK, tutorial, sample code available online. Easy integration with HTTP web and command line interface. Free program download
Windows | Freeware
Read More
HOSTED BY N5 Networks