Search N5 Net Software Repository:
Search Files
Sponsor:
Browse:
Areas Of Interest
Authors Area
Are you a software author? Take a look at our Author Resource Center where you will find marketing tools, software specifically created for promoting your software and a ton of other helpful resources.
Security & Privacy :: Anti-Virus Tools
Discover our award-winning free antivirus software, which removes malware and protects you against the latest strains of viruses, worms, Trojans and more. Together with the Avira Searchfree Toolbar, it not only keeps your PC clean, it also enhances your privacy and empowers you to safely surf the web. Features: - Real-Time Protection: Keeps your PC clean by blocking viruses, worms, Trojans, rootkits and more; - AntiAd/Spyware: Blocks all attempts to spy on you and rids you of annoying adware; - Browser Tracking Blocker* - Absolute privacy from companies trying to track your web activities. Included in the Avira Toolbar. - Website Safety Advisor* - Rates the Security of websites in your search results. Included in the Avira Toolbar.
Similar Products:
::

Protegent Antivirus Solution has been developed with two-tier protection that allows it to protect computers against latest unknown viruses, malwares, worms, Trojans and others. This software doesn?t only provide protection from unknown threats but also enhances user?s privacy and allows users to surf web without worrying about viruses. It has been designed to provide great protection and doesn?t slow down system performance as it gets unnoticed
Windows | Demo
Read More
Security & Privacy :: Anti-Virus Tools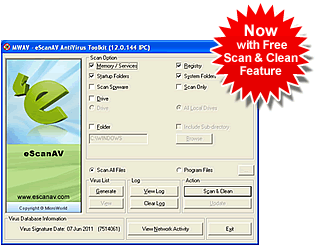 Free eScan AntiVirus toolkit that scans your computer completely and provides reports of any viruses and other threats that it finds. Checks for all illegal dialers, keyloggers and other spywares and adwares that are present on your computer and informs you of the same. Informs you of any background illegal sniffers running in the memory of your computer.
Windows | Freeware
Read More
Security & Privacy :: Anti-Virus Tools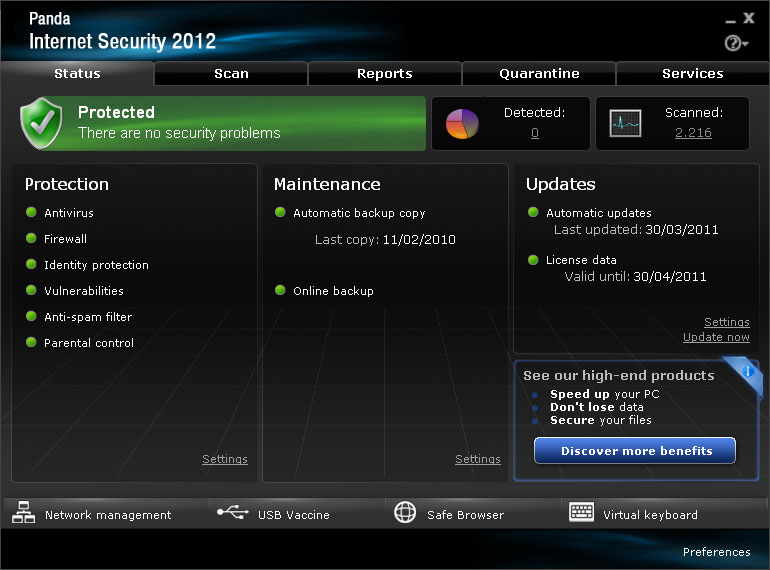 Panda Internet Security 2012 is the security suite that protects you against viruses, hackers, online fraud, identity theft and all other known and unknown threats. It lets you use the Internet for everything, like buying or banking online, with complete peace of mind and without interruptions. Also, it keeps your inbox spam-free, and allows you to surf the Web privately and securely with the new Panda Safe Browser.
Windows | Shareware
Read More
Security & Privacy :: Anti-Virus Tools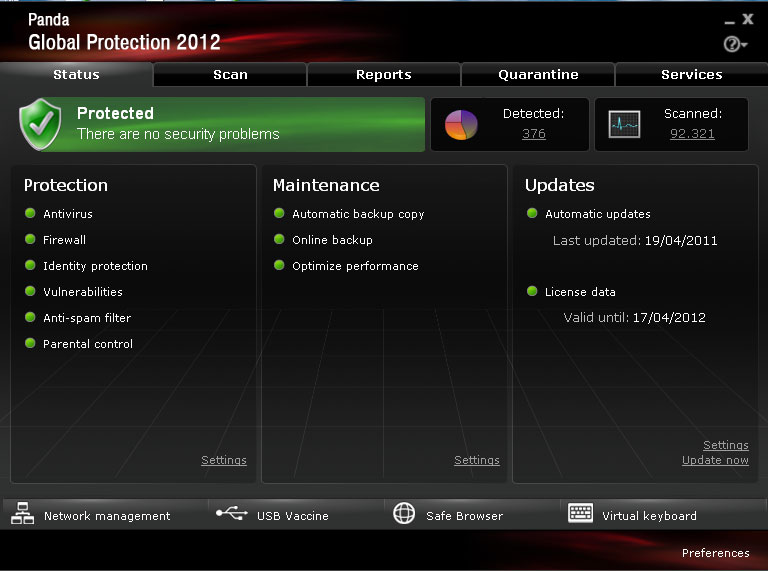 Panda Global Protection 2012 lets you enjoy complete security. It protects your PC from viruses, hackers, online fraud, identity theft and all other Internet threats. Also, it keeps your inbox spam-free, and allows you to surf the Web privately and securely with the new Panda Safe Browser. Faster and more intuitive, it includes Parental Control and lets you encrypt files with Panda Secure Vault.
Windows | Shareware
Read More