Search N5 Net Software Repository:
Search Files
Sponsor:
Browse:
Areas Of Interest
Authors Area
Are you a software author? Take a look at our Author Resource Center where you will find marketing tools, software specifically created for promoting your software and a ton of other helpful resources.
Virtins Sound Card Signal Generator is a powerful PC based virtual instrument. It consists of a sound card based Signal Generator and an off-line Oscilloscope. 1. The dual channel Signal Generator (Sweep/Arbitrary/Function Generator) provides the following types of waveform for output: (1) Sine (2) Square (3) Triangle (4) Saw Tooth (5) White Noise (6) Pink Noise (7) Multi-tones (8) Arbitrary via user-configurable waveform library at either a fixed frequency, or a frequency that sweeps linearly or logarithmically within specified frequency range and time duration. 2. The dual-channel off-line Oscilloscope provides four types of views: (1)Wave form display of Channel A and Channel B (2)Wave form display of Channel A + Channel B (3)Wave form display of Channel A - Channel B (4)Lissajous Pattern display for Channel A and Channel B The off-line Oscilloscope can be used to view the signal generated by the Signal Generator. It can also be used to view the WAV files recorded by other sound recording software. Visit www.virtins.com for further details.
Similar Products:
Development :: Components & Libraries

LightningChart JS comes with an outstanding execution performance - monitor dozens of data feeds simultaneously using high data rates. GPU acceleration and WebGL rendering ensure that your device's graphics processor is utilized efficiently, which results in high refresh rates and smooth animations. Visualize up to MILLIONS of data points!
Windows MAC Linux | Freeware
Read More
Audio & Multimedia :: Other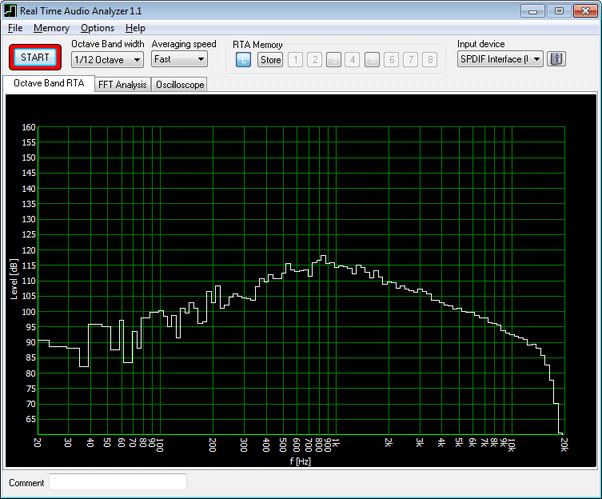 This program is an audio analyzer with FFT and n-th octave frequency analyzers and oscilloscope. The octave analyzer can show the frequency spectrum at 12th, 6th, 3rd and full octave resolution. (A standard license supports all resolutions). With the FFT frequency analyzer you can see the spectrum on a linear scale, which can be useful for harmonics and other analysis tasks. Also on board is a real time oscilloscope.
Windows | Shareware
Read More
Development :: Active X

ActiveX control that adds sound recording, sound analysis and CD ripping to multimedia applications. Supports recording and encoding in several formats. Visual feedback is provided through embedded VU-Meter, Spectrum Analyser, Oscilloscope and Waveform display. The integrated Sound Activation System allows pausing a recording session automatically when no sound is being heard. Can obtain CDDB information about a CD album during a ripping session.
Windows | Shareware
Read More
Development :: Components & Libraries

.NET component that adds sound recording, sound analysis and CD ripping to multimedia applications. Supports recording and encoding in several formats. Visual feedback is provided through embedded VU-Meter, Spectrum Analyser, Oscilloscope and Waveform display. The integrated Sound Activation System allows pausing a recording session automatically when no sound is being heard. Can obtain CDDB information about a CD album during a ripping session.
Windows | Shareware
Read More
HOSTED BY N5 Networks