Search N5 Net Software Repository:
Search Files
Sponsor:
Browse:
Areas Of Interest
Authors Area
Are you a software author? Take a look at our Author Resource Center where you will find marketing tools, software specifically created for promoting your software and a ton of other helpful resources.
Development :: Components & Libraries
MarshallSoft C/C++ serial communications component library for RS232 and multi-drop RS485 and RS422 serial ports. Use WSC4C to write applications to access data from serial devices such as barcode scanners, modems, lab instruments, medical devices, USB serial devices, scales, GPS navigation, fingerprint scanners, printer servers, etc. Features of WSC4C include: - Supports 256 ports. Can control multiple ports simultaneously. - Fully thread safe, port re-entrant, modem control, serial line status and control, and ANSI emulation. - Uses the standard Windows API to communicate with any device connected to a RS232 serial port. - Supports virtual serial ports (USB to serial converter, Bluetooth serial). - State driven Xmodem and Ymodem on multiple ports simultaneously (up to 256 connections). - Can send Windows messages on completion of events (incoming character, etc.). - Includes over 49 functions plus modem control. - Supports any baud rate. - Ability to specify the parity, word size, and number of stop bits. - Does not depend on support libraries. Makes calls to Windows API functions only. - Includes multiple C/C++ example programs. - Does not depend on support libraries (calls to core Windows API functions only). - Royalty free distribution with your compiled application. - C source code is available. - Free technical support and updates for one year. - Fully functional evaluation version available. - Supports most C/C++ compilers: Microsoft, Borland, Watcom, LCC, GCC, Digital Mars. - Supports all versions of 32-bit and 64-bit Microsoft C/C++ and Visual Studio C/C++. - Includes 32-bit and 64-bit DLL files plus OBJ files for static linking. - Works with 32-bit and 64-bit Windows through Windows 10.
Similar Products:
Development :: Components & Libraries

Windows TWAIN Scanner SDK - Capture images from all the TWAIN compliant scanner. Scanning automatically without any user interaction , save to to a multipage PDF. Has ability to adjust the scanner pixel type, True color, B/W Color, Gray color. Has ability to work with automatic document feeders ( ADF ) scanner devices. Draw multi-line text on image and provide over 50 different text styles. Zoom in, Zoom out, Rotate the image files.
Windows | Shareware
Read More
Development :: Components & Libraries

Devart ODBC Driver for SQLite provides high-performance and feature-rich connectivity solution for ODBC-based applications to access SQLite databases from Windows, Linux and Mac OS X, both 32-bit and 64-bit. Full support for standard ODBC API functions and data types implemented in our driver makes interaction of your database applications with SQLite fast, easy and extremely handy.
Windows | Shareware
Read More
Development :: Components & Libraries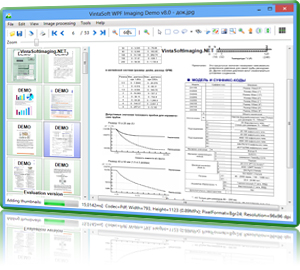 VintaSoft Imaging .NET SDK is the impressive imaging library for viewing, editing, converting, printing and saving images (BMP, DICOM, GIF, Icon, JBIG2, JPEG, JPEG2000, PNG, TIFF, RAW) and PDF documents in .NET, WPF and WEB. WinForms, WPF and Web controls for image processing. 90+ image processing functions. Plug-ins allows to: annotate image, PDF and DICOM; create, load, edit PDF; load, save JBIG2/JPEG2000; cleanup images; OCR/OMR; DICOM MPR.
Windows | Demo
Read More
Development :: Components & Libraries

PDF Stamp is a professional PDF stamp creator or PDF watermark creator, which can help you stamp PDF with images, text, graphic lines and rectangles. With the help of this stamp creator, you can annotate your PDF with custom stamps. PDF Stamp is a powerful and useful tool which enables you to easily apply company logos, signatures, charts, page numbers, date and time, contact information to the PDF files.
Windows | Shareware
Read More