Search N5 Net Software Repository:
Search Files
Sponsor:
Browse:
Areas Of Interest
Authors Area
Are you a software author? Take a look at our Author Resource Center where you will find marketing tools, software specifically created for promoting your software and a ton of other helpful resources.
Development :: Components & Libraries
Aspose.Metafiles is a Java WMF and EMF library for managing metafiles effectively that allows your Java applications to display and play both EMF and WMF files. You can also add both WMF and EMF files into your PowerPoint presentations created with Aspose.Slides. It enables you to convert metafiles to other popular graphic formats with additional support for handling text strings in metafiles and colors remapping on metafiles rendering.
Similar Products:
Development :: Components & Libraries

Docmosis Java allows software developers to quickly and easily create documents and reports in multiple formats, including: PDF, Doc, DocX, ODF, RTF and HTML. Docmosis uses Templates, which are just regular documents, created using Microsoft Word or OpenOffice, with added placeholders for any dynamic content. Your application passes data to Docmosis, which merges the data with your template, to produce the finished document.
Windows Linux | Shareware
Read More
Development :: Components & Libraries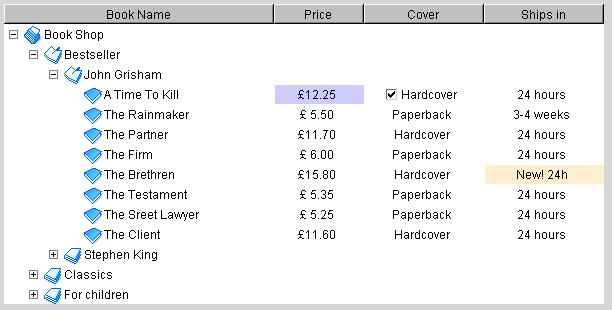 This Java applet combines both table (grid) view and tree view. So you can hierarchically organize your data and still have multiple columns to display not only node name, but also some properties of the item. Grid is editable, sortable, supports XML, dynamical data loading, custom icons, colors and fonts, JavaScript events, right-mouse menu, international symbols (like japanese), has comfortable API. Sources available.
Windows MAC Linux | Shareware
Read More
Development :: Components & Libraries

JsHttpRequest is a free powerful library to create AJAX-based websites in PHP. It could be used separately or as a PHP part for the popular Prototype JS library. JsHttpRequest has a great cross-browser compatibility (works even without an XMLHttpRequest support!), the simple and universal interface. The library supports AJAX-style background file uploading to a server without a page reloading and lots of other features.
Windows Linux | Freeware
Read More
Development :: Components & Libraries

PtBarcodeDec is Software Development Kit(SDK) to decode PDF417, QR Code(QRCode), Data Matrix(DataMatrix) barcode. The recognition SDK runs under Windows, WinCE(Win Mobile, Pocket PC, Smartphone), iPhone,Android, Symbian, and Unix/Linux. On Windows/Symbian/WinMobile, it comes with dynamic link library(dll), On iPhone/Mac OS,Android and Unix/Linux platform,it comes with static lib(*.a) or share object(*.so).
Windows MAC Linux | Freeware
Read More