Search N5 Net Software Repository:
Search Files
Sponsor:
Browse:
Areas Of Interest
Authors Area
Are you a software author? Take a look at our Author Resource Center where you will find marketing tools, software specifically created for promoting your software and a ton of other helpful resources.
Do you ever want to convert text to audio? Active TTS is what you want. It can convert text to mp3, text to wma or text to wav on the fly using the state of art text to speech (TTS) system. It converts text to mp3 or text to wma directly without generating any other temporary files. This is the unique feature of Active TTS. You have full control on the quality of the speech file by setting the encoding parameters. Active TTS wraps SAPI4 and SAPI5 in a simple way to use. Active TTS is specially designed to convert text to audio file. Active TTS can convert MP3 to swf (Macromedia flash movie) so that the speech can be embeded in web sites easily Directly convert text to wav, text to mp3, text to wma, text to ogg, text to vox, text to au and text to aiff format on the fly without temporary files created. Convert text to speech at high speed and save your disk's life as well Show progress when speaking or converting text Support SAPI4 or SAPI5 compliant voices. Convert mp3 to Macromedia flash format, so you can convert text to swf and add mp3 stream speech to web site in realtime SupportbBatch text to audio conversion Support TTS events Support Windows media lossless and speech codec Examples in VB, VB Script, C#, ASP, C++ Builder, ColdFusion, Delphi, JScript, Perl, PHP , VC++ are provided. Provide TTS Service tool to make text to speech conversion in IIS more easiler. Support more voices in many languages. Support x64 platform. Voices are important to a text-to-speech software. There are default voices shipped with Windows 2000 above. The capability and quality of the speech output are usually determined by the voices. There is a bunch of free voices on the internet for different languages. You can download and try.
Specifications:

Version: 2.0.2015.419
Author: Guangming Software

License: Shareware
File Size: 2 MB
Last Virus Scan: 2023-11-30
Downloads: 14
Views: 11
Price: $149.95

Installer: Install and Uninstall
Released: 4-19-2015

Tags:
convert text to mp3 tts text to speech IIS

---

Download

Runs on:

WinXP, Windows2000, Windows2003, Windows Vista Ultimate, Win98, WinME, Windows Media Center Edition 2005, Windows Vista Starter, Windows Vista Home Basic, Windows Vista Home Premium, Windows Vista Business, Windows Vista Enterprise



Requirements:

win98 above
Similar Products:
Development :: Active X

Permits the display of instant help texts in each place of a window. The texts appear at the position indicated, when the mouse stays unmoved in the near of the place. The function corresponds to the Tool Tip Texts of the Windows control elements; the texts displayed by InstantHelp however are not bound to dialogue or window elements and their positions. In this way it is possible to explain a picture for example.
Windows | Freeware
Read More
Development :: Active X

The PrecisionID Barcode ActiveX Control will generate Code 128, Code 39, UPC-A, UPC-E, ITF, EAN8, EAN13 and Postnet Barcodes. After installation, the ActiveX Control will be registered as a COM object. It has no dependencies and may be distributed in your application with a Developer's License.
Windows | Demo
Read More
Development :: Active X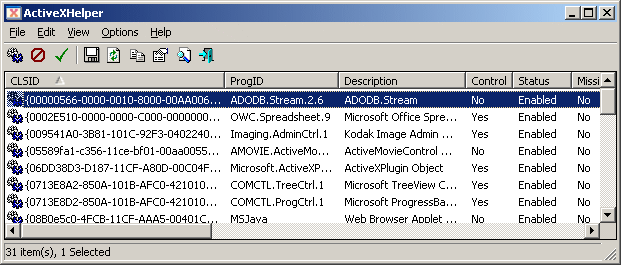 ActiveXHelper is a small utility that allows you to view essential information about ActiveX components installed on your computer. You can view the entire (and very large !) list of ActiveX components by loading it from HKEY_CLASSES_ROOT\CLSID Registry key, or alternatively, display only the ActiveX components that you specify.
Windows | Freeware
Read More
Development :: Active X

PDF Viewer Component is a light weight ActiveX Control which enables your application to display and interact with PDF files. It is identical to Adobe Reader program and adds high speed viewing of PDF documents to your applications easily. Read-Only Support for PDF Viewer! It is a great solution for companies wishing to display read only PDF document to their employees while restricting save or save to the underlying data.
Windows | Shareware
Read More
HOSTED BY N5 Networks