Search N5 Net Software Repository:
Search Files
Sponsor:
Browse:
Areas Of Interest
Authors Area
Are you a software author? Take a look at our Author Resource Center where you will find marketing tools, software specifically created for promoting your software and a ton of other helpful resources.
System Utilities :: Benchmarking
ALLBenchmark Catzilla - computer performance tests and recommendations. The test can analyze if your computer is suitable for latest games or watching HD movies in best quality. Tests are focused to check all computer components simultaneously. After the test, you will receive a certificate indicating your computer's performance in games and recommendations how to improve its performance. Recommendation system - recommendations for software and hardware. The program finds fundamental issues and proposes solution e.g. installing latest drivers, setting the appropriate amount of cache, increase free disk space, change color depth, resolution, changing GPU or CPU for a better one etc. Checking games The minimum requirements of the game are compared with your computer components during the test, and in this way you'll get an answer, whether the game will run on your computer smoothly and with all the details. Games will be also certified just like computer components and computers, making it much easier to determine how fast computer is required to run them.
Similar Products:
System Utilities :: Benchmarking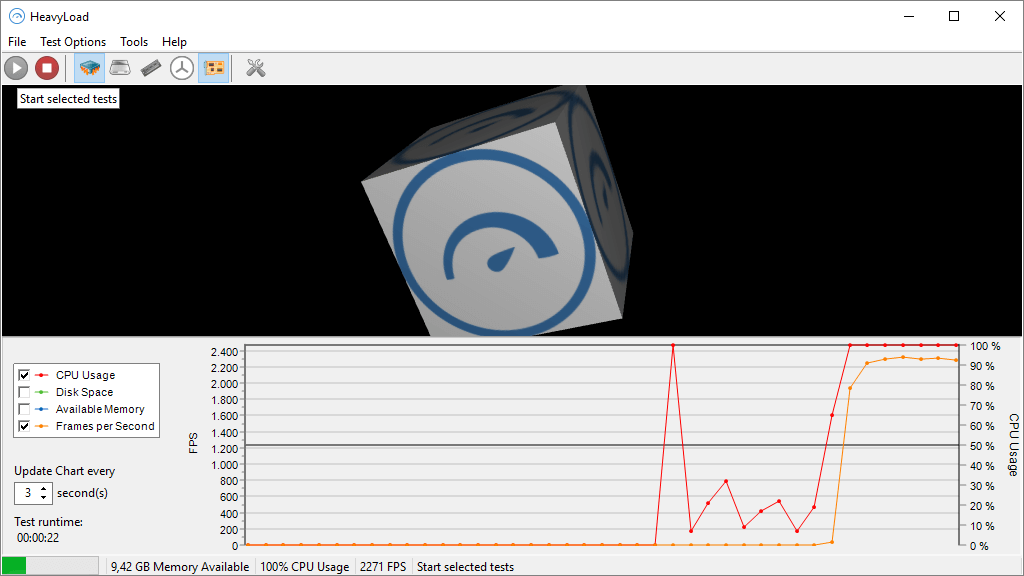 HeavyLoad is intended to stress all resources of a PC (like CPU, GPU, RAM, hard disk, operating system, etc.) in order to test if it will run reliably under heavy load. This is useful for testing important file or database servers before using them productively, or just for checking if your new PC might get too hot when used intensively.
Windows | Freeware
Read More
Audio & Multimedia :: Other

Prime Cores Beta 6.1 Written for Microsoft Windows for testing the stability of your overclocked system. Based on proprietary multitasking prime number searching algorithm capable to find over 16 milion prime numbers less than a minute. The result of the operations is known as 16.980.364 and 16.977.548 prime numbers for 6+6 cores
Windows | Freeware
Read More
System Utilities :: Benchmarking

Digital Media Doctor works with Digital Cameras and Camcorders, Palm Pilots, MP3 players and more. This utility performs diagnostic tests, using innovative algorithms, to determine device integrity. Benchmark tests, with various read and write modes, are included. Reports on how well the media is functioning are created upon analysis completion. Customize the number of blocks per read, test time length and even fix logical read errors.
Windows | Demo
Read More
HOSTED BY N5 Networks