Search N5 Net Software Repository:
Search Files
Sponsor:
Browse:
Areas Of Interest
Authors Area
Are you a software author? Take a look at our Author Resource Center where you will find marketing tools, software specifically created for promoting your software and a ton of other helpful resources.
Network & Internet :: Network Monitoring
Website change detection and anti intrusion tamper detection software with verification and availability monitoring. It offers one click verification and availability monitoring of web site integrity from web pages to a local folder. The program will cmpare single files, all files in a local folder or multiple sites and folders. Features include URL submission, reciprocal link exchange checking, customer database and link extraction. Advanced facilities provides are referrer comparison and MD5 checksum generator. Search engine submission SEO software.
Similar Products:
Network & Internet :: Network Monitoring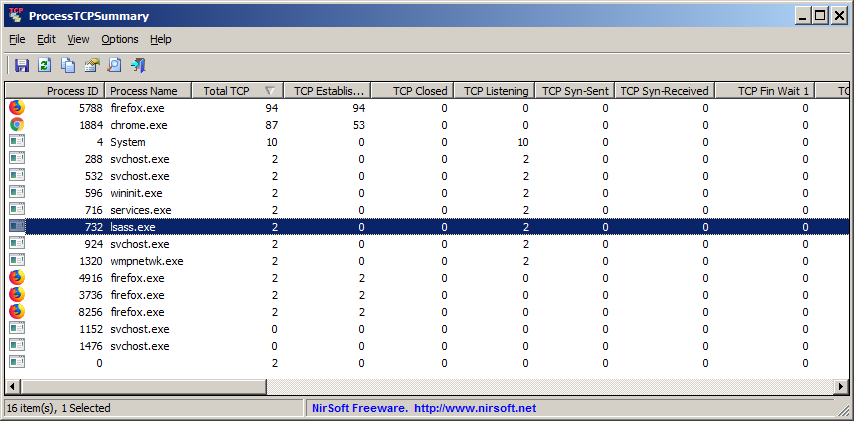 ProcessTCPSummary is a simple tool for Windows that displays a summary of all process that have TCP connections or listening UDP ports. For every process, this tool displays the total number of TCP connections, number of TCP connections for each status (Established, Listening, Syn-Sent, Syn-Received...), number of IPv4 TCP connections, number of IPv6 TCP connections, common port numbers, and more...
Windows | Freeware
Read More
Network & Internet :: Network Monitoring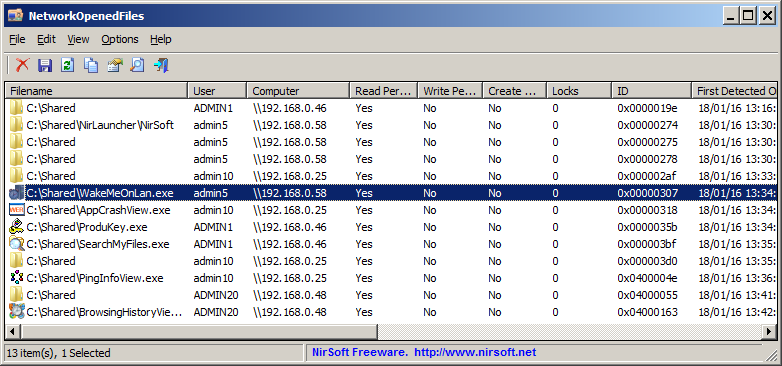 NetworkOpenedFiles is a simple tool for Windows that displays the list of all files that are currently opened by other computers on your network. For every opened filename, the following information is displayed: Filename, user name, computer name (On Windows 7/2008 or later), Permissions information (Read/Write/Create), locks count, file owner, file size, file attributes, and more...
Windows | Freeware
Read More
Network & Internet :: Network Monitoring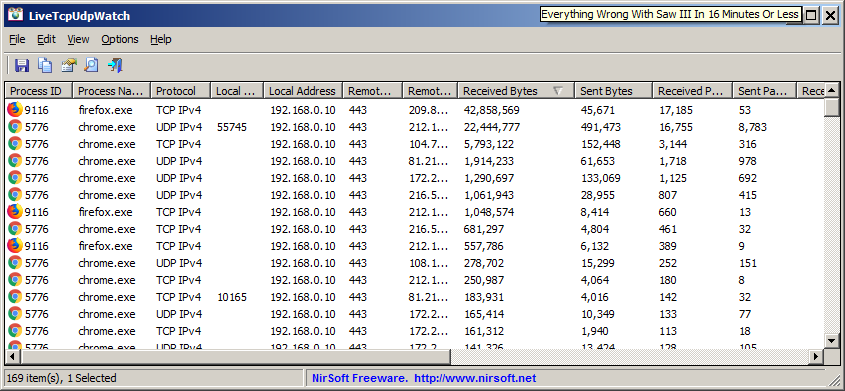 LiveTcpUdpWatch is a tool for Windows that displays live information about all TCP and UDP activity on your system. Every line in the main table of LiveTcpUdpWatch displays the protocol (TCP/UDP/IPv4/IPv6), local/remote IP address, local/remote port, number of sent/received bytes, number of sent/received packets, connect/disconnect time (For TCP only), and the process (ID and path) responsible for this activity.
Windows | Freeware
Read More
Network & Internet :: Network Monitoring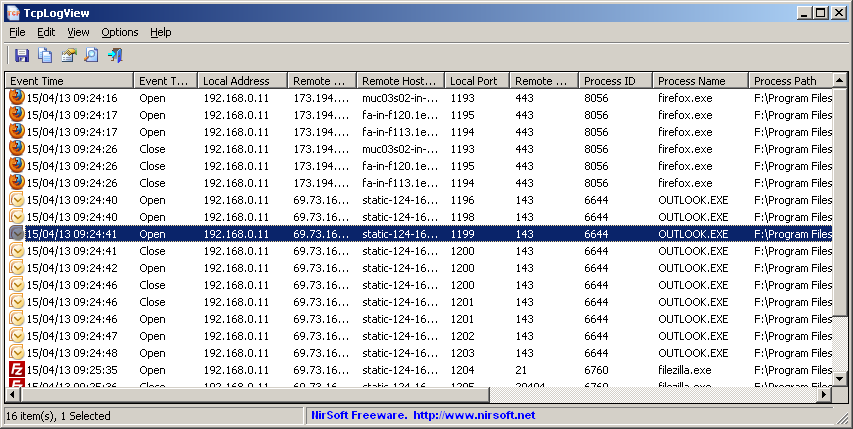 TcpLogView is a simple utility that monitors the opened TCP connections on your system, and adds a new log line every time that a TCP connection is opened or closed. For every log line, the following information is displayed: Even Time, Event Type (Open, Close, Listen), Local Address, Remote Address, Remote Host Name, Local Port, Remote Port, Process ID, Process Name, and the country information of the Remote IP.
Windows | Freeware
Read More
HOSTED BY N5 Networks