Search N5 Net Software Repository:
Search Files
Sponsor:
Browse:
Areas Of Interest
Authors Area
Are you a software author? Take a look at our Author Resource Center where you will find marketing tools, software specifically created for promoting your software and a ton of other helpful resources.
Network & Internet :: Network Monitoring
The Network Monitor II (wired and wireless) will show your SSID, signal quality, Internal IP address, External IP address with your country flag when you are connected to the internet, network utilization, upload speed, download speed and total (both current session and global) of usage. It does not require any 3rd party applications. Resizable! Save settings to file. (File will be created - Path: %APPDATA% File: gadgetname_Settings.ini). Two modes. Color changeable for all gadget's elements, including background. Features Display both internal and external IP address of your computer. Display download speed, upload speed and net usage. Display total downloaded/uploaded bytes, and downloaded/uploaded bytes of current session. Support both wired network and wireless network. Customize the text color of each element on the user interface. Auto update if internal/external IP changed. Save traffic counters to external file. Plus many more.
Similar Products:
Development :: Management & Distribution

CryptoLicensing For MFC is a licensing management and copy protection software featuring trials, activation, floating/leased licenses, hardware-locking, domain-locking and more. It supports all your MFC, ATL or C++ applications, libraries, components and controls. CryptoLicensing uses the latest military strength, state-of-the-art cryptographic technology to generate secure and unbreakable licenses to ensure that your software is protected.
Windows | Commercial
Read More
Network & Internet :: Network Monitoring

SoftPerfect Network Scanner is a fast universal IPv4/IPv6 scanner. Ping computers, scan ports, discover shared folders and retrieve practically any information about network devices via WMI, SNMP, HTTP, SSH and PowerShell. Scan for remote services, registry, files, performance counters and so on. The results can be exported to a variety of formats from XML to JSON. Flexible filtering and display options. Download from www.softperfect.com
Windows MAC | Shareware
Read More
Network & Internet :: Network Monitoring

Network Inventory Advisor is an agent-free utility which brings you fast and reliable PC network inventory. It easily collects all network information about software and hardware installed in the network and builds flexible reports by different parameters.
Windows | Freeware
Read More
Network & Internet :: Network Monitoring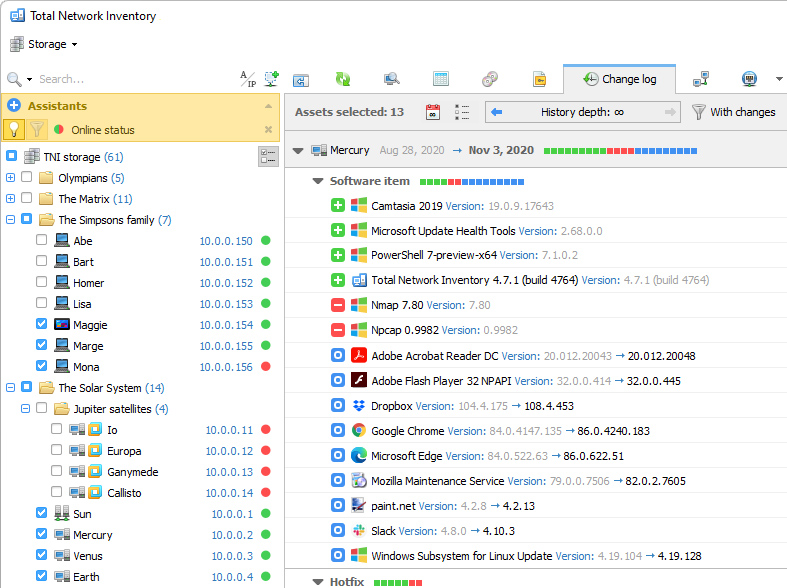 Make an inventory of your entire LAN without leaving your chair! Total Network Inventory will scan your entire LAN, query all servers, workstations and appliances found, and log essential information about every piece of equipment discovered. A perfect, effortless, hassle-free inventory.
Windows | Shareware
Read More