Search N5 Net Software Repository:
Search Files
Sponsor:
Browse:
Areas Of Interest
Authors Area
Are you a software author? Take a look at our Author Resource Center where you will find marketing tools, software specifically created for promoting your software and a ton of other helpful resources.
Network & Internet :: Search/Lookup Tools
Account Chef is an unlimited email account creator software. With this application, you can get bulk email account in just one click. It will auto find available email provider, then auto register bulk email accounts, all of these are done automatically. If you need a lot of email accounts, e.g. register account in some websites, email activation, seo marketing... then Account Chef is a powerful tool for you. How Account Chef works: Create Account: Just click 'Start' button to start create account. It will auto looking for available email provider to create account. Just need one click, you will get unlimited email accounts. Account List: All successful accounts will save to your database. You can copy it out to do what you want to do. You also can mark it as used, unused, or delete it. Email List: When a new email arrives in your mailbox, you can download it via pop3. You can choose one email account from your account list. If you choose 'All Account' option, it will download all mails of your all accounts. Advanced Feature: Catch All: Auto open all unread mails and visit all urls in built-in browser. Email Accounts Export: Save your account list to a txt file. Reset: You can purge all accounts or mails to restore defaults.
Similar Products:
Network & Internet :: Search/Lookup Tools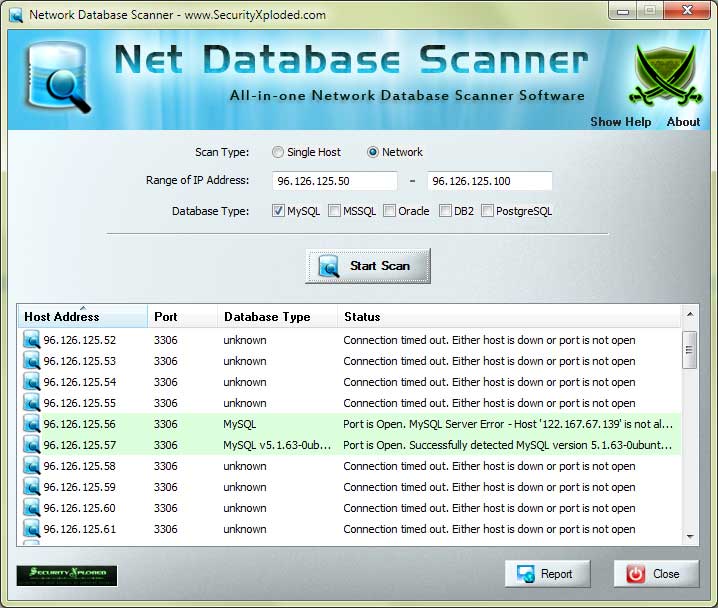 All-in-one Network Database Scanner Software
Windows | Freeware
Read More
Network & Internet :: Search/Lookup Tools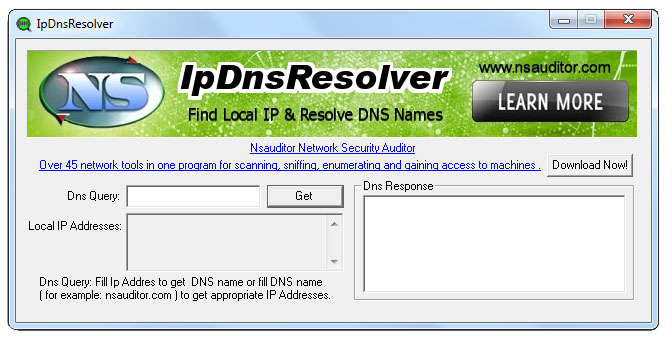 IpDnsResolver is a very simple and fast program that easily lets you find your own IP address, resolve hostnames to IP addresses and IP addresses to hostnames using the DNS. The tool is designed with a user-friendly interface and is easy to use.
Windows | Freeware
Read More
Network & Internet :: Search/Lookup Tools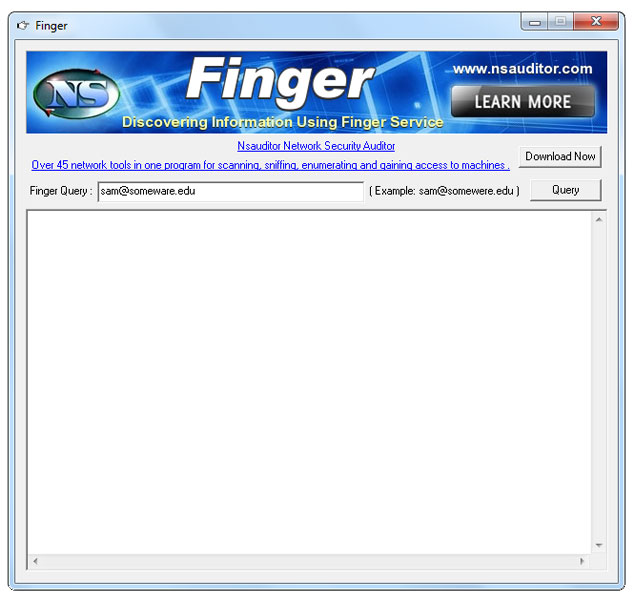 Finger is the tool for discovering user information by using well known finger service.Using Finger tool makes possible to get Abuse Address of remote host.For example to get the abuse address of prontomail.com you should type prontomail.com@abuse.net in the finger input section.
Windows | Freeware
Read More
Network & Internet :: Search/Lookup Tools

This tool allow to get your public IP, when you are connected to the Internet. So, an Internent connection is required to get your public IP. Moving your mouse onto the MyPublicIP icon, at the bottom left of the screen, near the clock, allows you to view your public IP.
Windows | Freeware
Read More
HOSTED BY N5 Networks