Search N5 Net Software Repository:
Search Files
Sponsor:
Browse:
Areas Of Interest
Authors Area
Are you a software author? Take a look at our Author Resource Center where you will find marketing tools, software specifically created for promoting your software and a ton of other helpful resources.
Security & Privacy :: Anti-Virus Tools
Abpremiumpc Antivirus protects your computer from known and unknown threats. It allows you to protect your computer in real time , real-time protection from viruses, spyware, known and unknown threats without slowing down your computer You do not want a gourmet pc memory : abpremiumpc secures your PC without using a lot of ressource.utilisation of your system resources to a minimum. It is possible to use it with another antivirus without reducing the performance of your system. You can protect yourself from the dangers of social networking . You secure your wireless networks . abpremiumpc is very convenient if you want to optimize your computer. It contains a smart fire barrier . the firewall warns you if you try to access your pc.anti - pishing : you are protected from theft. You are also protected against identity theft . Functions Abpremiumpc : Protection against threats You're protected against malware and threats of the Internet. Pare secure fire Intelligent firewall fire with directional options. Protection for your digital identity You can encrypt and decrypt your sensitive files. You can perform a backup or restore your data. Protect Your Family You can interdict access to certain websites. You can interdict certain applications. You can restrict internet access. Anti virus scan in real time, at your request or automate . Optimizing your computer You can delete the history of naviguation on the internet, delete cookies , empty your recycle bin to optimize your pc . It is a software to protect your computer. It is a software to secure your PC.
Similar Products:
Security & Privacy :: Anti-Virus Tools

USB Disk Security provides protection against any malicious programs trying to attack via USB drive. It delivers high level of protection against theft and accidental disclosure of confidential data, and prevents unauthorized persons from stealing your data. USB Disk Security is the best security software to protect offline computer without the need for signature updates.
Windows | Freeware
Read More
Security & Privacy :: Anti-Virus Tools

Trojan Killer Portable is the most reliable scanner & anti-malware tool designed for your memory sticks. No installation anymore - keep the system secured against cyber attacks and make sensitive personal information protected. Be sure you are safe from computer threats wherever you go!
Windows | Shareware
Read More
Security & Privacy :: Anti-Virus Tools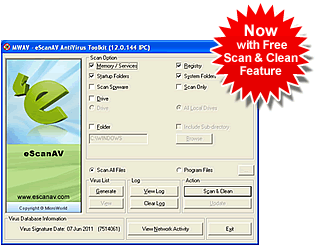 Free eScan AntiVirus toolkit that scans your computer completely and provides reports of any viruses and other threats that it finds. Checks for all illegal dialers, keyloggers and other spywares and adwares that are present on your computer and informs you of the same. Informs you of any background illegal sniffers running in the memory of your computer.
Windows | Freeware
Read More
Security & Privacy :: Anti-Virus Tools

Security Task Manager is a computer utility designed to offer full access to Windows processes. Security Task Manager's main focus is on your computer's currently running processes, and offers a great deal of information on them: process name, CPU usage, memory usage, file name and location, security rating and more. Protector will catch any mouse movement monitoring software, and will alert you if the Windows Registry has been tampered with.
Windows | Shareware
Read More