Search N5 Net Software Repository:
Search Files
Sponsor:
Browse:
Areas Of Interest
Authors Area
Are you a software author? Take a look at our Author Resource Center where you will find marketing tools, software specifically created for promoting your software and a ton of other helpful resources.
Security & Privacy :: Covert Surveillance
Several threats existing in the Web. So called "Logger" belonging to the most dangerous and sneaky ones. Meant are spy-ware, which is recording and transferring all your keyboard and display inputs. This gives criminals access to your bank account, eBay login or other sensible data. The Abelssoft AntiLogger is especially developed to detect and neutralize spy-ware. All potentially harmful applications will be listed after a deep system analysis and can be dealt accordingly. To harden your system against unwelcome Intruders in the future, the background guard provides a permanent protection. Your system will be scanned for suspicious processes and applications imperceptibly in the background. When the background guard detects something suspicious it will notify you immediately. Not every suspicious application is a harmful spy-ware application. If it is a granted access you can add the application to a list of "Approved Applications" with just one click. In other cases you have the possibility to block the application for just one time or permanently.
Similar Products:
Security & Privacy :: Covert Surveillance

Spy Patrol is a user-friendly spy software that runs hidden in the background. Spy Patrol records in stealth mode all th keystrokes typed, passwords, websites visited, chats etc. and takes screen shots of the active windows. Spy Patrol records all the user passwords (including the system logon password!). Spy Patrol captures the emails sent and received, and the messenger conversations are recorded as well! See more at www.spy-patrol.com
Windows | Shareware
Read More
Security & Privacy :: Covert Surveillance

NetBull is the best and most undetectable keylogger you can find on the Internet. By using the latest in computer monitoring techniques, NetBull keylogger tracks all activities that occur on the monitored computer (Internet browsing, keyboard usage, user names and passwords, messenger conversations, programs used, Facebook activity, emails etc. etc.). The official website for NetBull keylogger: www.netbull.com
Windows | Shareware
Read More
Security & Privacy :: Anti-Spam & Anti-Spy Tools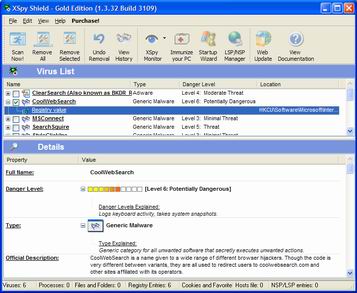 The program scans the Windows registry, active processes, cookies and entire file system. It also checks essential system and networking components. XSpy Shield can perform full system scan or check only user-defined locations. It uses extensive spyware definitions database that includes more than 12,000 signatures. The database is updated on a regular basis. The program provides detailed scan reports, shows the description, exact location and ot
Windows | Shareware
Read More
Security & Privacy :: Anti-Spam & Anti-Spy Tools

Able Spyware Scan and Destroy provides real-time anti-spyware protection against spyware, viruses, keyloggers, spyware cookies, adware, Trojan horses, spybots, browser hijackers, and phishing attacks. It actively monitor and protect the PC from uninvited software attacks.Able Spyware Scan and Destroy can detect and remove a multitude of spyware files and viruses from your computer. It prevents viruses from being installed in the first place.
Windows | Freeware
Read More