Search N5 Net Software Repository:
Search Files
Sponsor:
Browse:
Areas Of Interest
Authors Area
Are you a software author? Take a look at our Author Resource Center where you will find marketing tools, software specifically created for promoting your software and a ton of other helpful resources.
A fun and easy to use pack of classic solitaire games for your PC! All your favorites are here - more than 50 of the world's favorite Solitaire games. Whether it's the attractive cards, or just their large size and easy-to-read numbers - this game is relaxing to play because it just looks so good. And there are games to suit your mood - from easy to very challenging. Naturally, statistics are available for each game. We've put a lot of effort into making Classic Solitaire the easiest game to play. J.Prosser, USA reports: 'My brother suffered paralysis on his right side. With only one hand he has difficulty playing most solitaire games because they require drag and drop which is a two handed task on the laptop. Classic Solitaire eliminated that barrier and he is enjoying at least one of his old past-times.' Games List Includes: Freecell, Spider, Klondike,Pyramid, Golf, Aces Up, Beleaguered Castle, Canfield, Idiot's Delight, Clock, Corona, Cruel, Duchess, Scarab, Yukon, Montana, Corner Stones, Russian Solitaire, and many more. By the way - if you're looking for 'plain old solitaire', try 'Klondike'. This is another name for the Solitaire game which comes with Windows.
Similar Products:
Games & Entertainment :: Card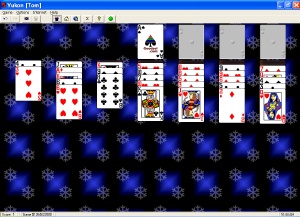 Pretty Good Solitaire is a collection of 1010 solitaire card games, from classic games like Klondike, FreeCell, and Spider, to original games found nowhere else. Pretty Good Solitaire features lush graphics, beautiful easy-to-read cards, sound, in-depth statistics, a wizard that allows you to create your own solitaire games, and daily solitaire quests, a unique new way to play solitaire for points. New Challenges every day!
Windows | Shareware
Read More
Games & Entertainment :: Card

Play solitaire as an arcade game with Action Solitaire. Unlike regular solitaire, Action Solitaire is played for points against the clock in timed rounds. Action Solitaire has 75 different games. Play fast action games such as Triple Peaks, Triple Towers, BlackJack Speed, and Picking Pairs. Play solitaire classics like FreeCell, Klondike, Spider, Pyramid, Golf, Gaps, Montana and Yukon, all like you have never seen them before.
Windows | Shareware
Read More
Games & Entertainment :: Card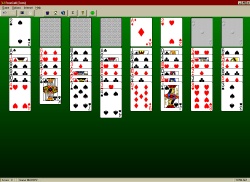 FreeCell Wizard is a solitaire game that includes the popular game FreeCell and 15 other similar games, such as Sea(haven) Towers, Double FreeCell, and Penguin. It features lush graphics, large easy-to-read cards, sound, in-depth statistics, and a wizard that allows you to create your own freecell type solitaire games. FreeCell Wizard game numbers are compatible with the game numbers in Windows FreeCell.
Windows | Shareware
Read More
Games & Entertainment :: Card

Free online freecell solitaire card game. Win quickly, and play to beat your best online solitaire score. freecell solitaire card game is playable directly out of your browser, without need to download. All the fun and features of freecell solitaire: auto card-placement; undo & new game buttons; your highest card game score is auto-recorded; get all your cards in one of the four foundations by moving them around the tableau and into freecells.
Windows Linux | Freeware
Read More