Search N5 Net Software Repository:
Search Files
Sponsor:
Browse:
Areas Of Interest
Authors Area
Are you a software author? Take a look at our Author Resource Center where you will find marketing tools, software specifically created for promoting your software and a ton of other helpful resources.
Network & Internet :: FTP Clients
SecureFX for Windows, Mac, and Linux is a secure file transfer client with advanced features like site synchronization and automation to help network administrators and web designers streamline everyday tasks. Delivering strong security with SFTP, SCP, and TLS-based protocols, as well as legacy FTP, SecureFX is the tool you can rely on for tough jobs - connecting to multiple servers, resuming multi-file transfers, and getting through network proxies and firewalls. An easy-to-learn tabbed interface and dockable session manager gets you up and running quickly. Establish a secure connection, then drag and drop files to and from the server and your desktop or other applications (Windows only). The SFXCL command-line utility (Windows and Linux only) allows fully-automated, unattended file transfers. ?Relentless? transfers automatically reconnect and resume when connections are broken. Authentication options include password, keyboard interactive, public-key, X.509, and Kerberos v5. Site synchronization handles upload, download, and true mirroring. Filter a file selection with wildcard support, and store configurations in the synchronize database for quick recall. Named sessions and firewalls let you to save preferences for future use. A personal data folder provides separate storage of logon information so that other configuration data can be stored on a network drive or in the cloud for use on different systems or sharing with colleagues. A 30-day, fully-functional evaluation includes access to technical support.
Specifications:

Version: 8.5.3
Author: VanDyke Software Inc.

License: Shareware
File Size: 35 MB
Last Virus Scan: 2019-02-16
Downloads: 321
Views: 503
Price: $59.95

Installer: Install and Uninstall
Released: 2-12-2019

Recent Changes:
SecureFX 8.5 improves your workflow with a Bookmark Manager for adding, deleting, editing, and copying bookmarks as well as other enhancements. Externally launched sessions automatically open in the existing SecureFX application window. SFXCL now has more options for automated file transfers.

Tags:
ftp sftp secure ftp ssh ssh2 secure shell secure transfer file transfer securefx van dyke windows

---

Download

Runs on:

WinOther, Mac OS X, WinServer, iPhone, Unix, Linux



Requirements:

macOS 10.12/10.13
Similar Products:
Servers :: FTP Servers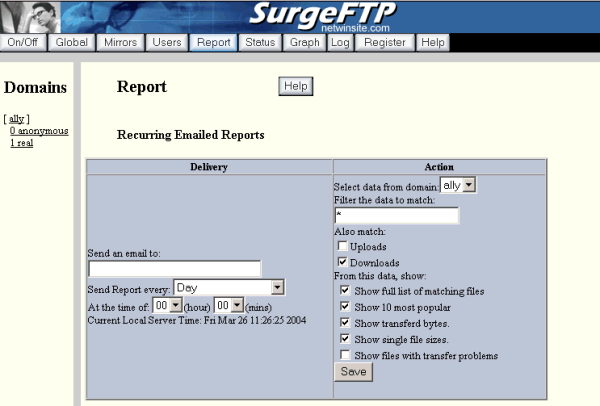 An FTP server which gives you top performance, reliability, reporting tools and most importantly, ease of management. With a few clicks you can generate a report to show who's using your server, and more importantly who is misusing it, wasting your bandwidth and resources. Full SSL/TLS security in SurgeFTP for Windows, Linux, FreeBSD, Solaris and Mac OSX.
Windows MAC Linux | Shareware
Read More
System Utilities :: File & Disk Management

Command line multi function tool. Find and extract text in files, dir tree size, filter and replace text, instant ftp server, http server for easy file transfer, find duplicate files, split and join files, md5 lists, run a command on all files, detab, hexdump, tcpdump, color text, convert CR/LF, list all .zip .jar .tar.gz .bz2 contents. No Installation, Portable Executable. Instant Use on Windows. Also available for Mac OS X, Linux, Raspberry Pi.
Windows MAC Linux | Freeware
Read More
System Utilities :: Backup & Restore

SiteVault Pro is a complete rebuild of the previous version, gathering years of experience with website backup and web development servers backup. It brings new features to compensate for slow FTPs and other inconvenients allowing speeds of 4 MB/s on very small files transfers that would have taken hours on a regular FTP. The MySQL backup is also innovative in both speed and compression using a smart incremental engine.
Windows Linux | Shareware
Read More
Development :: Components & Libraries

SIP Phone DLL - A powerful and highly versatile VoIP SDK to accelerate development of SIP applications. Our brand-new SIP SDK provides a powerful and highly versatile solution to add quickly SIP (Session Initiation Protocol) based dial and receive phone calls features in your software applications. It accelerates the development of SIP/ RTP compliant soft phone with a fully-customizable user interface and brand name.
Windows Linux | Commercial
Read More