Search N5 Net Software Repository:
Search Files
Sponsor:
Browse:
Areas Of Interest
Authors Area
Are you a software author? Take a look at our Author Resource Center where you will find marketing tools, software specifically created for promoting your software and a ton of other helpful resources.
Security & Privacy :: Encryption Tools
Absolute Password Protector combines features of cryptography and steganography software. The program hides your sensitive data into pictures. Absolute Password Protector hides your secret data so that presence of the hidden data is undetectable. Encrypted containers can be used to safely send files over the Internet via e-mail. Absolute Password Protector adds "invisible" noise to digital photographic images. This noise will contain your sensitive data in an encrypted form. There are a lot of password protection utilities on the market today that promise a secure storage for your files. Unfortunately, simple password protection techniques do not guarantee safety and passwords are easily cracked. LastBit Software is a company providing password recovery solutions since 1997. The company has a great experience in this field and did the best to make the encryption utility as strong as possible. Absolute Password Protector uses the CleverLock (TM) technology that dramatically increases the time and efforts needed to break even a short password. So, maximum possible brute-force attack speed is about 100 passwords per second (for example, search speed for Zip archives is up to tens of millions of passwords per second). There is no need to start the program each time you wish to encrypt or decrypt a file. Absolute Password Protector integrates into the Windows shell and can be invoked by a right click on a file, while in Windows Explorer. Encrypt files with a single mouse click!
Similar Products:
Security & Privacy :: Encryption Tools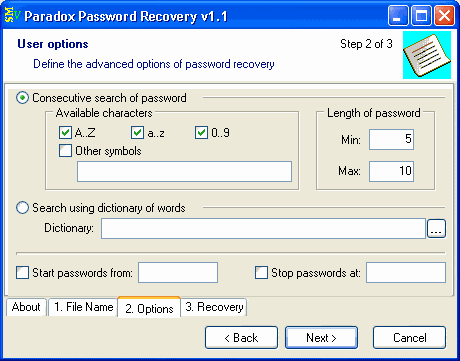 Paradox Recovery allow to find the lost password for Paradox tables. An application don't use any external libraries (no BDE, no ODBC, no ADO etc) and you may run this tool on any computer without any additional setup/install. You may customize the brute-force or dictionary search process for entire password with extended options. All versions of Paradox tables and all file kinds (data, indexes etc) supported.
Windows | Shareware
Read More
Security & Privacy :: Encryption Tools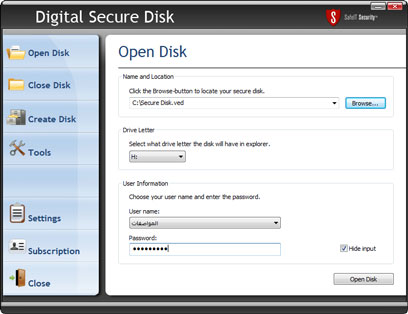 The perfect solution for protecting your sensitive information from theft or other attacks. The program makes a part of your current hard disk into a secure disk. All private and confidential information stored on this disk will be protected by strong encryption. Unlimited disk size, store over 100 GB! In this new version you can also create more than one Secure Disk and move sensitive information in between Secure Disks.
Windows | Commercial
Read More
Security & Privacy :: Encryption Tools

Silver Key is a file encryption program that encrypts files or folders and produces encrypted parcels, which can be safely sent over the Internet. Silver Key parcels are self-extracting and don't require the recipient to have any cryptographic software installed. You can also specify additional action to be performed during decryption, such as creating a shortcut to the decrypted file, or opening the file using the associated application.
Windows | Shareware
Read More
Security & Privacy :: Encryption Tools

The security of sensitive data is often neglected. But the encryption of diaries, pictures or other secret documents is so simply. abylon BASIC is a collection to encrypt, sign, compress, search, copy, mail or move files and folders, full integrated into the context menu of the File Explorer. The encryption use the Blowfish- and/or AES algorithm and supports passwords, smart cards, certificates, CDs or memory sticks as secret.
Windows | Shareware
Read More
HOSTED BY N5 Networks