Search N5 Net Software Repository:
Search Files
Sponsor:
Browse:
Areas Of Interest
Authors Area
Are you a software author? Take a look at our Author Resource Center where you will find marketing tools, software specifically created for promoting your software and a ton of other helpful resources.
Development :: Management & Distribution
100% .NET solution for licensing controls and applications written for the .NET Framework (C#, VB.NET). Currently available for .NET Framework 3.5, 4.0, 4.5 and Windows 8 Store app. It uses 2 different licensing schemas: Licensing by issue license file, and Licensing by secure encrypted license keys. Main features: 1.Strong license file and unlock key encryption. 2.Flexible license file content. It allows you to create different license types that fit your needs using 17 different validators and unlimited number of the custom fields. 3.Custom license fields. It allows you to store any additional information in the license file, so you can lock/unlock some features of your product, or make some additional tests to validate license. 4.Component/Control Licensing. 5.Time/Usage Limited Evaluation. Manco.Licensing System allows you create evaluation version of your product that is limited by running time (you can set expiration date or number of days before license expiration), number of runs or some features of the product. 6.Signed license file. Manco.Licensing system uses strong RSA encryption to sign license files. 7.Activate by Unlock Key. Use strong RSA encrypted unlock keys to activate your application or control. 8.Create encrypted code and data. Manco.Licensing System allows you to encrypt key application data or source code with separate parameters and keys (not the same ones that are used to encrypt/decrypt license) using functionality provided by Manco.LicenseGenerator. Then encryption parameters and keys are included into the license file as custom values. You can include encrypted data and source code into your project and then decrypt, compile and load them into memory in runtime using functionality provided by Manco.Licensing.License class. After that this compiled code can be used in the application or control. 9.Source Code Integration. 10.License Generator. This is the full functional application for complete license and customer management.
Similar Products:
Business :: Office Suites & Tools

Excel workbook copy protection tool, compiles XLS into EXE (which requires MS Excel to run) with securely hidden formulas and VBA code. Main features: copy protection for Excel workbook with regkey/license from illegal copying; securely hide formulas by converting them into binary format; protect VBA code; create trial version of workbook with usage period limited by amount of days; custom splash screen; See details at www.XCellCompiler.com
Windows | Shareware
Read More
Development :: Management & Distribution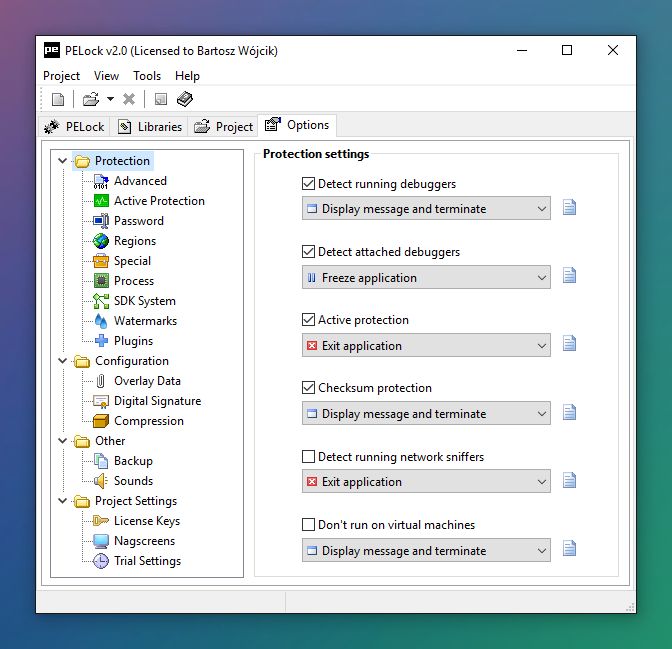 PELock is a software security solution designed for protection of any 32 bit Windows applications against cracking, tampering and reverse engineering analysis. PELock comes with a built-in licensing system, you can use it to easily add license key system for your application. You can also set various time-trial limitations for the protected application, e.g. 30 days trial.
Windows | Demo
Read More
Security & Privacy :: Other

Lack of control over installed software leads to extra cost of software licenses, fines due to licensing incompliance or even data breach due to usage of unsupported and obsolete applications. Action1 Malicious Software and Unsecured Configurations Monitor helps IT administrators to take software inventory under control, lower cost of software ownership and ensure compliance.
Windows | Freeware
Read More
HOSTED BY N5 Networks