Search N5 Net Software Repository:
Search Files
Sponsor:
Browse:
Areas Of Interest
Authors Area
Are you a software author? Take a look at our Author Resource Center where you will find marketing tools, software specifically created for promoting your software and a ton of other helpful resources.
ASPMaker is a powerful ASP code generator that can generate a full set of ASP (Active Server Pages) quickly from a Microsoft Access Database, SQL Server or any Data Source that supports ADO. Using ASPMaker, you can instantly create Web sites that allow users to view, edit, search, add and delete records on the Web. ASPMaker is designed for high flexibility, it offers numerous options for you to generate ASP applications that best suits your needs. The generated codes are clean, straightforward and easy-to-customize. ASPMaker can save you tons of time and is suitable for both beginners and experienced developers alike.
Similar Products:
Development :: Components & Libraries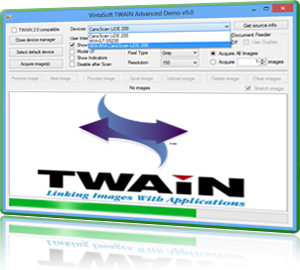 VintaSoft Twain .NET SDK is the professional TWAIN scanning library for acquiring images from scanner or camera. SDK allows to get a list of all TWAIN devices installed in the system, get information about device capabilities, acquire images from device with or without device UI, acquire image from flatbed or document feeder, acquire images in duplex mode, use imprinter capabilities of device etc. SDK has examples of use in VB.NET, C#, ASP.NET.
Windows | Demo
Read More
Network & Internet :: Trace & Ping Tools

Many Internet Service Providers (ISP) disconnect your computer when they detect a lack of Internet access for a certain amount of time. You must then reconnect your computer in order to continue your Internet session. Rasputin simulates network activity to help keep your Internet connection alive. Rasputin is very simple to use and works discreetly in the background.
Windows | Shareware
Read More
::

IISTracer is a real-time monitoring tool for Microsoft IIS scripts (.asp, .cgi,..), static files (.htm,.gif,..) and downloads (.mp3,.zip,..). Lets you show online current state and progress of each running request in IIS. Lets you log IIS state. Current number of running requests (scripts/downloads), Current state of the request, Script start time and running time with precision up to milisecond. Request and response content-length.
Windows | Shareware
Read More
::

ASP recordset converter is a library for converting DAO or ADO recordsets to MDB or DBF files. It enables direct binary database export of MDB or DBF files from ASP pages with one row of code. The object also supports on-the-fly compression by zip/arj.
Windows | Shareware
Read More