Search N5 Net Software Repository:
Search Files
Sponsor:
Browse:
Areas Of Interest
Authors Area
Are you a software author? Take a look at our Author Resource Center where you will find marketing tools, software specifically created for promoting your software and a ton of other helpful resources.
Network & Internet :: Terminal & Telnet Clients
z/Scope Classic is Cybele Software's fully featured PC-to-Host Terminal Emulation for accessing to AS/400, IBM Mainframes and UNIX hosts. It can be run on Windows 98/ME/NT/2K/XP/Vista platforms, and supports TN3270E, TN5250E and VT100/420 protocols. It has multihost/multisession emulation capabilities and provides secure access to SSL 2-3, TLS 1.0 and SSH enabled hosts. It optionally includes a FTP Client with full awareness of AS/400 objects and z/OS datasets, integrated into its tabbed interface. HIGHLIGHTS * Stand-alone PC-to-Host terminal emulation. * Support for extended TN3270 and TN5250 protocols. * Support for VT52, VT100, VT220, VT320, VT420 and ANSI. * Support for SSL 2.0, and 3.0, TLS 1.0 and SSH1, SSH2 security protocols. * Open multiple emulation sessions simultaneously and switch them quickly and easily through tabs or view up to 4 sessions together in tiled view! * Full multi-session FTP client also integrated into the tabbed interface. * Integrated Printer Emulation. Send, queue, pause, cancel and even preview you prints! * HLLAPI, EHLLAPI, WinHLLAPI Support. * Collapsible panel for quick and direct access to connections. * Create new Hotspots contextually from the screen through the Hotspots wizard. * Unmatched look&feel and the most intuitive and user-friendly interface, now with support for the slickest skins. * Localization for foreign Languages: Available in English, Spanish, French, German, Italian, Portuguese and Swedish. * Navigators provide a new way to automate navigation sequences. * IND$FILE for VM/TSO/CICS file transfer support. * Integration with Microsoft Office suite. Export text in the emulation display directly to Word or Outlook applications. * Screen History for convenient one-click access to previously visited screens.
Specifications:

Version: 6.5.0.7
Author: Cybele Software Inc.

License: Shareware
File Size: 20 MB
Last Virus Scan: 2020-08-06
Downloads: 54
Views: 73
Price: $69.00

Installer: Install and Uninstall
Released: 4-12-2016

Recent Changes:
- Compatible with Windows 10 and all previous Win OS. - Works with Citrix.

Tags:
terminal emulation terminal emulator SSL TN3270 TN5250 3270 5250 3270 emulator 5250 emulator VT emulation VT100 emulation VT220 VT320 VT420 ANSI SSH1 SSH2 telnet client UNIX emulation VTxxx FTP Client IBM TN TN3270 TN5250 encryption mainframe AS/400

---

Download

Runs on:

WinXP, WinVista, WinVista x64, Win7 x32, Win7 x64, Win2000, Windows2000, Windows2003, WinServer, Win98, WinME, WinNT 4.x



Requirements:

Compatible with Windows 10 and all previous Win OS. Works with Citrix.
Similar Products:
Network & Internet :: Terminal & Telnet Clients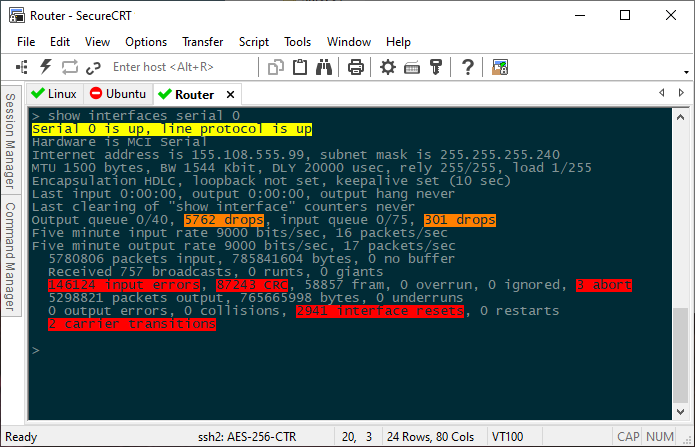 SecureCRT combines rock-solid terminal emulation with the strong encryption, broad authentication options, and data integrity of the Secure Shell protocol. SecureCRT offers a tabbed/tiled interface, advanced session management and customization, built-in scripting, X.509 certificate authentication, and extensive emulations including VT100, VT102, VT220, TN3270, ANSI, SCO ANSI, Wyse 50/60, Xterm, and Linux console.
Windows MAC Linux | Shareware
Read More
Network & Internet :: Terminal & Telnet Clients

z/Scope Anywhere provides a WEB Terminal Emulation client for AS/400, Mainframes and UNIX . Access your host from your web browser! Works with Google Chrome, Mozilla Firefox, Internet Explorer, Safari, opera and other HTML5 capable browsers. z/Scope Anywhere is a SSL/SSH enabled multi-session terminal emulator for accessing AS/400 iSeries, IBM Mainframes and UNIX / VTxxx hosts under Windows platforms. Try it for FREE during 30 days.
Windows | Shareware
Read More
Network & Internet :: Terminal & Telnet Clients

KINSole is a free, open source Win32 implementation of client side of the telnet protocol, described in detail in the RFC854 and related RFCs. It uses win32 console API and therefore may run both windowed and in fullscreen character mode. Unlike some other telnet clients it implements many telnet options, like "are you there", "timing mark", etc. described in RFC855, RFC857, RFC1091, RFC1073, RFC1572 and, probably, some others.
Windows | Freeware
Read More
Network & Internet :: Terminal & Telnet Clients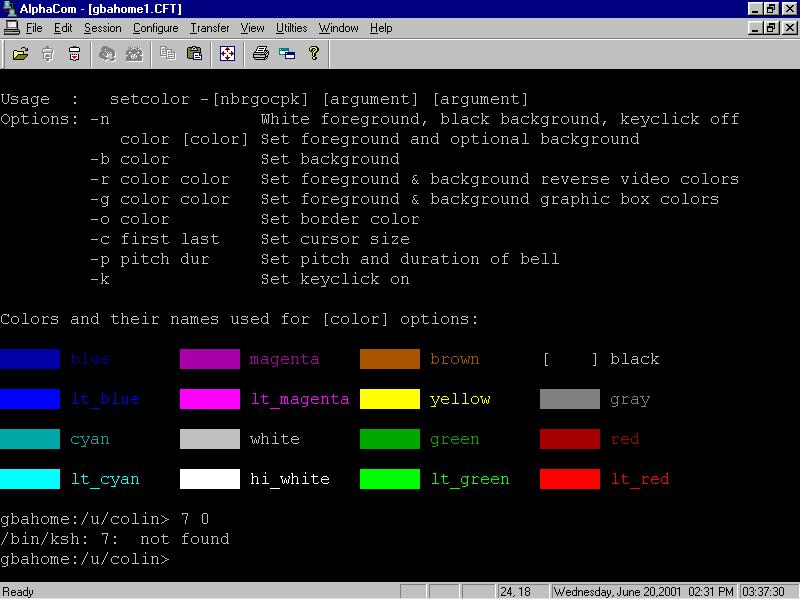 Powerful - yet inexpensive - multi-session terminal emulator for Windows. Supports SSH/Telnet/direct RS-232/Modem connections with Linux, ANSI, IBM3151, Wyse 50/50+, Wyse 60, SCO ANSI, VT52, VT100, VT102, VT220 emulation. Features include dynamic font sizing, free LPD and pass-through printing support, Euro compatibility, multi-protocol file transfer, international character set and keyboard support, ActiveX developer toolkit, and more!
Windows | Shareware
Read More
HOSTED BY N5 Networks