Search N5 Net Software Repository:
Search Files
Sponsor:
Browse:
Areas Of Interest
Authors Area
Are you a software author? Take a look at our Author Resource Center where you will find marketing tools, software specifically created for promoting your software and a ton of other helpful resources.
Security & Privacy :: Anti-Virus Tools
Panda Global Protection 2012 is the complete security suite that ensures information integrity. Enjoy complete security. The product leverages Collective Intelligence and protects you against digital threats: viruses, hackers, online fraud, identity theft and all other known and unknown threats. Collective Intelligence is an information network that leverages the knowledge gathered from the Panda user community. It protects and detects in real time, making the product safer and faster. This new version has a new, intuitive and easy-to-use interface. Besides, it ensures protection against spyware, phishing, rootkits and banking Trojans, letting you surf the Web with complete peace of mind thanks to its new Web Filter and intelligent updates. It keeps your inbox spam-free, and allows you to browse the Web securely with the new Panda Safe Browser. With the Parental Control, your children will browse the Internet safely, whereas Panda Secure Vault lets you encrypt your private files and folders or delete them forever. It includes Panda USB Vaccine to protect your PC and USB drives from infections, and Panda Safe CD to disinfect all types of malware on your computer even if Windows does not boot. Play games without interruptions with the new multimedia/gaming mode, and check the status of your home computers with the new Home Network Manager. Access your data from anywhere through the 2GB Online Backup and access your computer remotely. With 24h/365d Technical Support through our support forum, by email and the Web, you will be able to send suspicious files directly to our PandaLabs engineers. You will receive daily updates that ensure you are protected against all new threats. Panda Security protects its users against viruses and other threats. As always, you can be sure that Panda's products offer maximum protection with minimum PC resource consumption.
Similar Products:
::

Comodo Antivirus is a free security solution for Windows that uses a powerful combination of real-time threat monitoring, auto-sandboxing and behavior analysis to immediately protect your computer from all known and unknown malware. Whether you are an IT novice or an experienced user, Comodo Antivirus makes it easy to implement the highest strength protection.
Windows | Freeware
Read More
Security & Privacy :: Anti-Spam & Anti-Spy Tools


Antispam software that lets you get back at spammers that choose to spam your e-mail. Better than a regular email anti spam filter (i.e., for outlook express, etc) because you can actually get back at the spammers. And better still, this is free anti spam software! So check it out now!
Windows | Freeware
Read More
::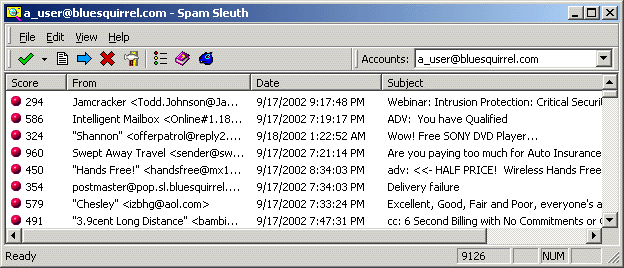 Spam Sleuth, more than a simple filter, monitors your e-mail box behind the scenes and analyzes e- mail messages for spam, virus and Web bug characteristics. Spam Sleuth compresses messages to take as little space as possible on your computer, and keeps a report with the suspect e- mail. When your e-mail program gets your e- mail, the spam has already been removed and you can read your e- mail the same way you always have, but without sorting thr
Windows | Shareware
Read More
::

Comodo Firewall is the free, multi-layered security software that keeps hackers out and personal information in. Built from the ground upwards with your total security in mind, this award winning firewall constantly monitors and defends your system from inbound and outbound attacks. CPF also features a full Host Intrusion Prevention System to protect your operating system files and block viruses before they ever get the chance to run.
Windows | Freeware
Read More