Search N5 Net Software Repository:
Search Files
Sponsor:
Browse:
Areas Of Interest
Authors Area
Are you a software author? Take a look at our Author Resource Center where you will find marketing tools, software specifically created for promoting your software and a ton of other helpful resources.
Audio & Multimedia :: Music Composers
"A unique audio meter and side chaining tool" - Blue Cat's DP Meter Pro (DPMP) is a unique audio analysis tool that combines very flexible and customizable audio meters with advanced side chaining control capabilities thanks to its MIDI and automation outputs. The metering capabilities of the DPMP plug-in let you control and monitor audio signals exactly the way you want: almost every aspect of the peak, RMS and crest factor meters can be customized. It proposes five different scales by default, including Bob Katz's popular K-System scales (K-12, K-14, K-20), and you can create your own. Large colored statistics displays following your own scales are included for an overview of a track, while histograms give you a precise measurement of the dynamic range of the track. The graphs show the evolution of the audio envelopes over time, and the mid-side switch lets you verify mono compatibility problems and check the "stereoness" of your audio sources very easily. Whether you are working with mono, stereo or surround tracks, this plug-in will fit into your workflow. All envelopes (peak, RMS, crest factor...) can be reused for additional monitoring or side chaining purposes: combined together, reversed, modified and recorded as automation curves or sent as MIDI CC messages, they can control other effects in real time. The DP Meter Pro Tutorials explain how to use these unique capabilities in your favorite host. Possibilities are endless, from voice over and ducking to side chain compression, multiple tracks monitoring or dynamic stereo enhancement. It is also possible to control external MIDI hardware (such a synths, MIDI effects), video effects or lighting systems with an audio signal.
Specifications:

Version: 4.2
Author: Blue Cat Audio

License: Shareware
File Size: 2 MB
Last Virus Scan: 2020-07-01
Downloads: 34
Views: 41
Price: $99.00

Installer: Install and Uninstall
Released: 5-21-2019

Recent Changes:
Refreshed GUI design, with improved usability and touchscreen support. The GUI can now be zoomed from 70% to 200%. Brightness control now applies to the entire user interface. Last loaded preset is now remembered in session and displayed in the presets menu.

Tags:
Blue Cat Audio VST plugin DirectX plugin DP Meter Pro

---

Download

Runs on:

Windows Vista Starter, Windows Vista Home Basic, Windows Vista Home Premium, Windows Vista Business, Windows Vista Enterprise, Windows Vista Ultimate, Windows Vista Home Basic x64, Windows Vista Home Premium x64, Windows Vista Business x64, Windows Vista Enterprise x64, Windows Vista Ultimate x64



Requirements:

Any VST or DirectX compatible host application.
Similar Products:
Audio & Multimedia :: Music Composers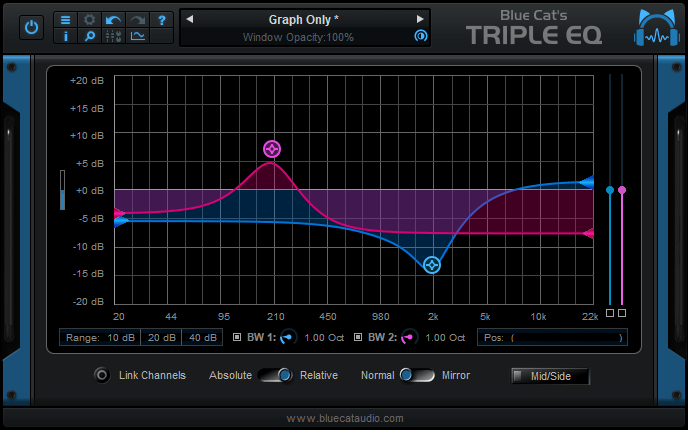 "The easy and free shapeable filter" - Blue Cat's Triple EQ is a free 3 bands semi-parametric equalizer that can be controlled like a single filter, with a customizable shape.This free EQ includes a low shelf filter, a high shelf filter and a boost/cut peak filter. Its wide range of gain (+/-40 dB per band) and bandwidth (.01 to 5 Octave) makes it very versatile to create any filter shape.
Windows | Freeware
Read More
Audio & Multimedia :: Music Composers


"The Free Vintage Chorus" - From a light ensemble to a deep destructive modulation effect, Blue Cat's Chorus can just do anything, for free! The Chorus effect was originally designed to simulate several voices, just as if several persons were playing together the same notes, but with a variable delay between them. This is one of the typical effects that you can get with Blue Cat's Chorus.
Windows | Freeware
Read More
Audio & Multimedia :: Music Composers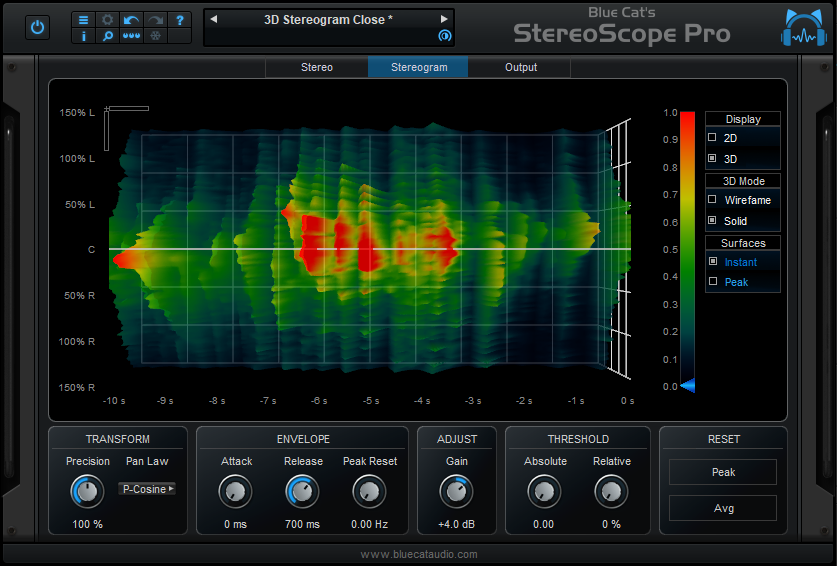 "Detailed stereo image analysis with 3D visualization." - Blue Cat's StereoScope Pro is a real time stereo field analyzer with multiple views and MIDI/automation output capabilities. It is a powerful help to analyze how the audio signal is spread in the stereo field, and you can easily detect potential phase and mono compatibilities issues.
Windows | Shareware
Read More
HOSTED BY N5 Networks