Search N5 Net Software Repository:
Search Files
Sponsor:
Browse:
Areas Of Interest
Authors Area
Are you a software author? Take a look at our Author Resource Center where you will find marketing tools, software specifically created for promoting your software and a ton of other helpful resources.
Business :: Office Suites & Tools
Mac Barcode Label Software is a powerful software designed specifically for businesses that need to create and print barcode labels for their products, assets, or inventory. With Mac Barcode Label Software-Corporate Edition, you can easily create custom barcode labels with just a few clicks of your mouse. One of the great features of this software is its ease of use. You don't need to be a tech-savvy person to use it. The interface is user-friendly, and you can create and print labels in minutes. You can choose from a variety of barcode types, including Code 39, Code 128, EAN, UPC, and more, and customize your labels with different fonts, colors, and graphics. Mac Barcode Label Software is also highly customizable. You can import data from Excel or a text file, and the software will automatically generate barcodes for each item on your list. You can also use the software to create sequential barcodes, making it easy to keep track of your inventory or assets.Another great feature of this software is its ability to print multiple labels at once. This is especially useful if you need to print a large number of labels quickly. You can print labels on a variety of paper types and sizes. Mac Barcode Label Software uses batch processing series for designing multiple barcode stickers. Mac Barcode Label Software - Corporate Edition is also compatible with a variety of barcode scanners, making it easy to scan and track your inventory or assets. This can save you time and reduce errors, as you can quickly scan items and update your records in real-time. In conclusion, if you're looking for an easy-to-use, cost friendly and highly customizable barcode label software for your business, Mac Barcode Label Software Corporate Edition is definitely worth considering. With its powerful features and user-friendly interface, it can help you save time, increase efficiency, and manage your inventory or assets with ease. Free download is available to review the software.
Similar Products:
Business :: Inventory & Barcoding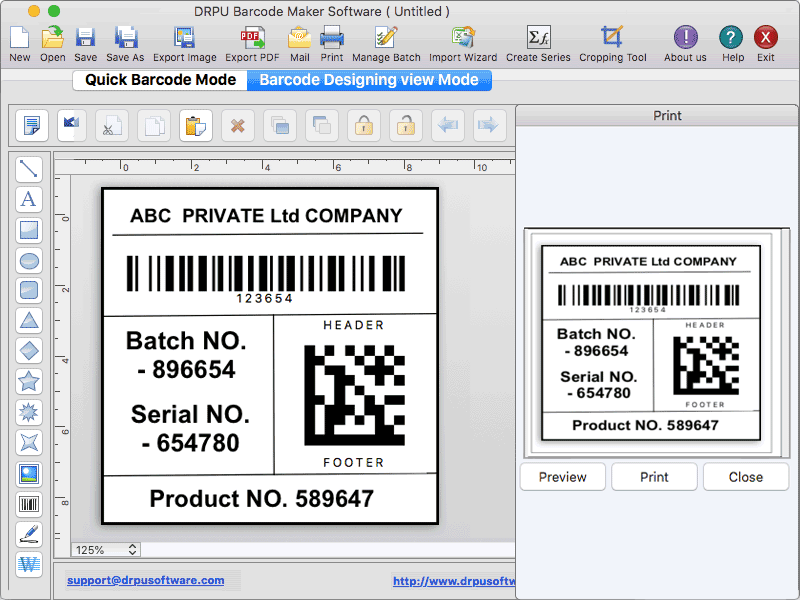 Mac barcode labeling software employs highly developed series-creating options, which include sequential, constant, and random order formats, to quickly generate numerous numbers of barcode label or tags for various commercial applications. Mac designable barcode maker tools export the barcode labels in image or PDF file formats. Mac Software allows user to save barcode images in JPEG, TIFF, Bitmap, PNG, WMF, EMF, EXIF, and GIF image file formats
MAC | Shareware
Read More
Business :: Inventory & Barcoding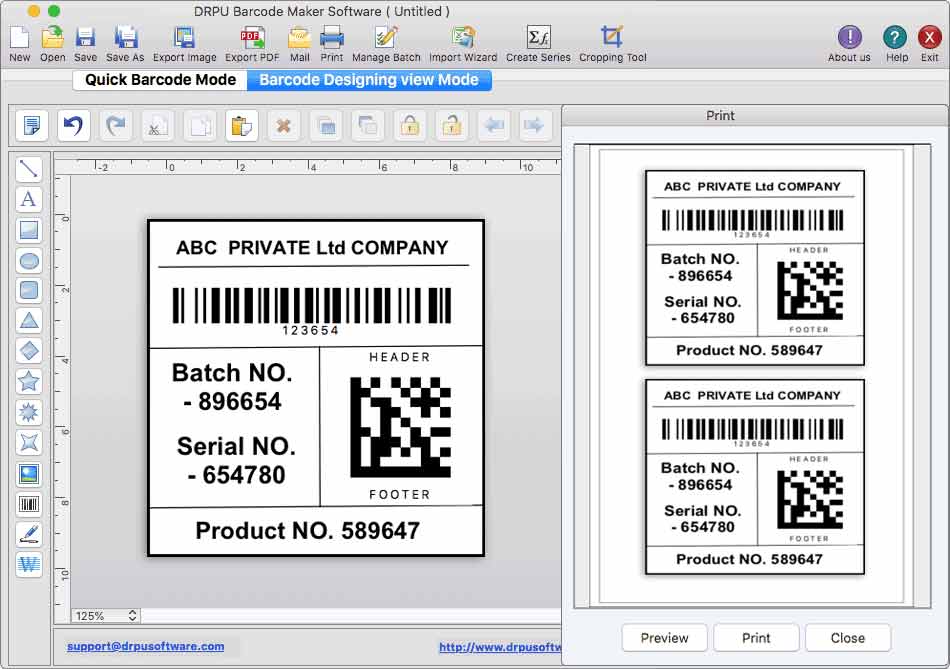 Mac barcode labeling software employs highly developed series-creating options, which include sequential, constant, and random order formats, to quickly generate numerous numbers of barcode label or tags for various commercial applications. Mac designable barcode maker tools export the barcode labels in image or PDF file formats. Mac Software allows user to save barcode images in JPEG, TIFF, Bitmap, PNG, WMF, EMF, EXIF, and GIF image file formats
MAC | Shareware
Read More
Business :: Inventory & Barcoding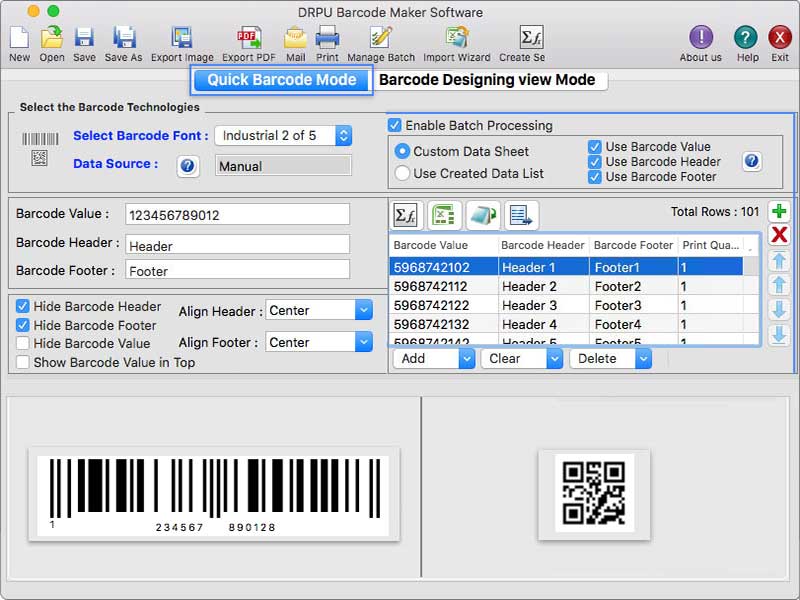 Mac barcode labeling software employs highly developed series-creating options, which include sequential, constant, and random order formats, to quickly generate numerous numbers of barcode label or tags for various commercial applications. Mac designable barcode maker tools export the barcode labels in image or PDF file formats. Mac Software allows user to save barcode images in JPEG, TIFF, Bitmap, PNG, WMF, EMF, EXIF, and GIF image file formats
MAC | Shareware
Read More
Business :: Inventory & Barcoding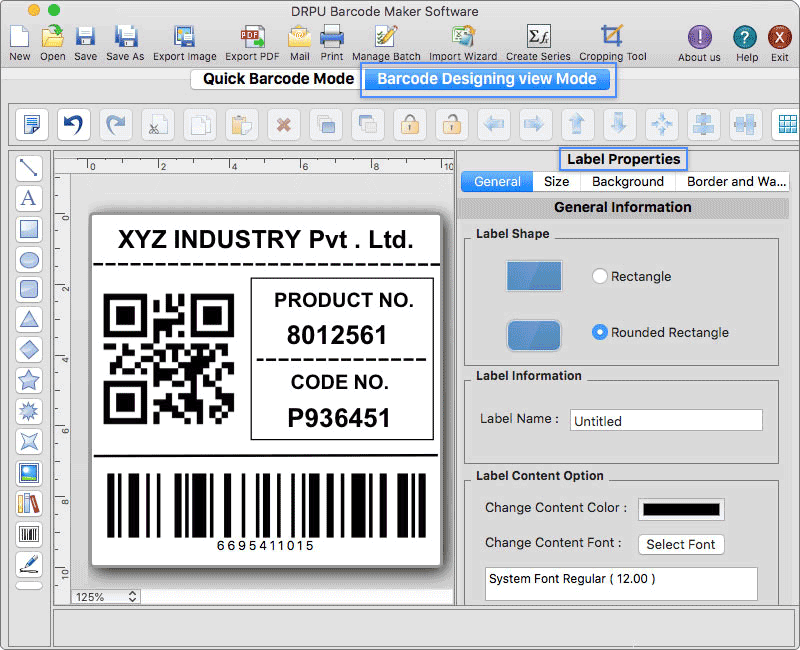 Mac Barcode Maker (Standard Edition) designs high-quality barcode and prints all types of barcode labels by using Mac machine. Barcode Generator Software provides sharing feature to send created barcode label at specified email address. Barcode generator software creates single or multiple barcode label, business sticker, barcode asset tag and coupon with different values. Barcode creator software supports all major linear and 2D barcode fonts.
MAC | Shareware
Read More
HOSTED BY N5 Networks