Search N5 Net Software Repository:
Search Files
Sponsor:
Browse:
Areas Of Interest
Authors Area
Are you a software author? Take a look at our Author Resource Center where you will find marketing tools, software specifically created for promoting your software and a ton of other helpful resources.
Audio & Multimedia :: Music Composers
Crescendo Plus is the most intuitive music notation and composition software to arrange your own professional quality sheet music using a wide array of music symbols and notes. Crescendo Plus Features: * Change the key signature and time signature * Add whole, half, quarter, eighth and sixteenth notes and rests (semibreve to semiquaver) * Compose music in Treble, Bass or C Clefs (e.g., Alto and Tenor) * Assign sharp, flat and natural accidentals to notes * Keyboard shortcuts toggle between notes and rests * Insert text to specify a title, tempo, dynamics or lyrics * Drag notes to change their pitch or placement * Automatically detects if a measure has the correct beat amount for the time signature * Adjust staff line placement by snapping them to margins or other staff lines * Add ties and slurs across notes * Zoom in and out for easier editing * View history of work completed * Save to Crescendo's format, or export as MusicXML * Print completed music projects, or blank music sheets for hand transcription * Create dotted notes, chords, add repeats, and more.
Similar Products:
Audio & Multimedia :: Other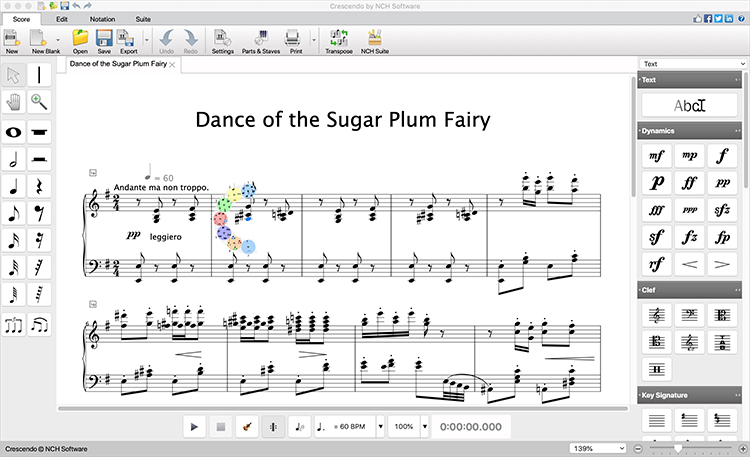 Crescendo Free Music Notation Editing Software is perfect for composing original songs, music, scores, and soundtracks. The program features a wide variety of text, key signatures, time signatures, and notation symbols all on a free-form layout to give you complete control over your music creation. With Crescendo you can compose music for film, a band, a score, or just for fun!
MAC | Freeware
Read More
Audio & Multimedia :: Other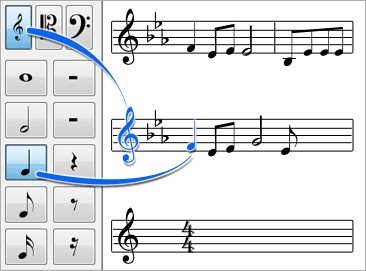 Crescendo Plus is perfect for composing original songs, music, scores, and soundtracks. The program features a wide variety of text, key signatures, time signatures, and notation symbols all on a free-form layout to give you complete control over your music creation. With Crescendo you can compose music for film, a band, a score, or just for fun!
MAC | Shareware
Read More
HOSTED BY N5 Networks